Forex Marketing: The Ultimate Guide for Trading Brokers
Forex brokers just starting their journey face the same problems that any fledgling company does: they must find solutions to various issues. These challenges are related to the technical support and equipment of the trading platform and its marketing in the existing market, which is already highly competitive.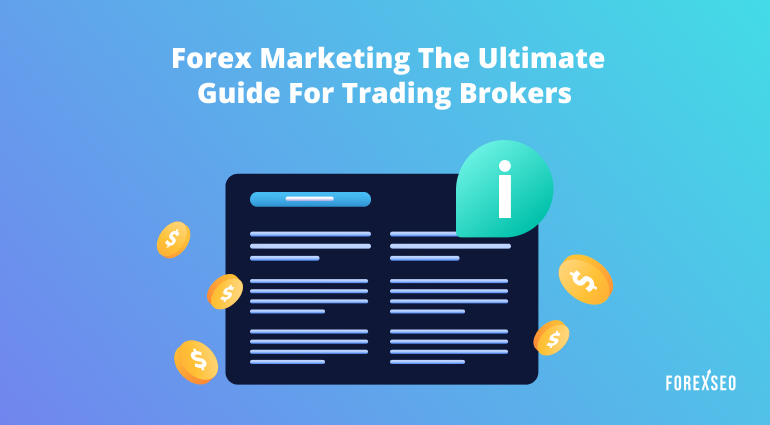 The foreign exchange market is currently quite highly saturated with various brokers; for the most part, they all provide the same thing to their customers. It will be imperative to help your target audience understand what trading with your specific FX broker can provide by explaining its benefits. The particulars of any Forex firm and the demographics of its intended customers determine how successful the building of brand awareness can be.
What is Forex Marketing?
Trading of currencies takes place on the market called the foreign exchange market. The ability to acquire goods and services locally and beyond international borders is one reason why currencies are significant. Currency conversion is the first step that must take place in order to engage in international trade and business.
The foreign exchange (Forex) markets have seen an explosive expansion in recent years. The rise in competitiveness has resulted in the introduction of new regulatory policies. Although it is anticipated that these reforms would, in the long term, result in increased openness, they will also result in many issues for FX brokers. A combination of factors, including falling organic traffic and some adverts prohibited by major social networks and search engines, is making life increasingly challenging for forex service providers.
Determine how you want to communicate about your Forex business, what makes you distinct from your competitors, and to whom you wish to send your message in the first place. This is the fundamental approach to executing marketing for Forex traders.
Does Forex Marketing Help You Increase Your Online Profits?
Forex marketing has become critical for organizations looking to expand their reach to potential clients. The following are some of the fundamental reasons to use Forex marketing for your business:
Increases your company's internet visibility, allowing you to reach more prospective clients.
Increases your company's online exposure, making it easier for your target audience to find and search for you.
It allows your brand to rank well on top search engine results pages.
Online marketing attracts high-quality traffic and targets potential clients for your business.
It enables improved client involvement and, as a result, more profit.
Online marketing allows you to develop more significant and long-term business-client ties.
You can optimize marketing methods that perform best for your company.
Nine Best Forex Digital Marketing Strategies in 2023
Delivering the right message to the right audience in the right way is the key to digital marketing and SEO that works. In the highly competitive forex market of today, hard-selling methods from the past are more likely to turn away potential clients than bring them closer. No matter how big or long you've been in the market as a broker, the success of your brand marketing depends on how well you use content marketing and if you can make a popular video or blog. Here are marketing strategies on how your forex content marketing can be successful: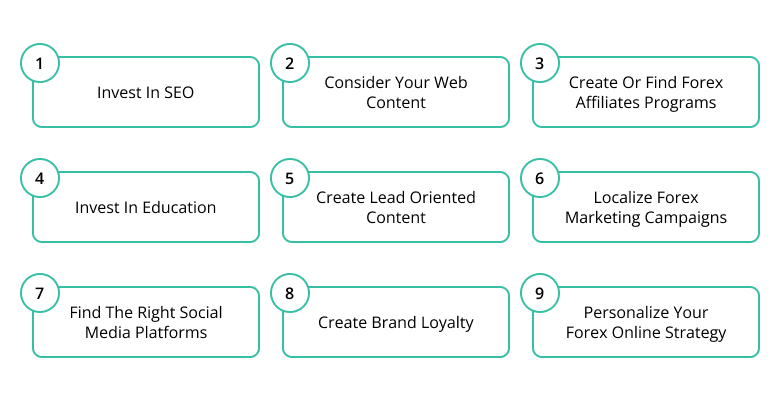 1. Invest in SEO
The key to unlocking your brand's development potential is your SEO marketing plan. It's how you get higher rankings in search engine results pages (SERPs), bring organic traffic to your website, and eventually increase conversions and sales.
SEO (Search Engine Optimization) improves your web traffic and rankings by employing specific qualitative content guidelines and technological upgrades. Quantity is also necessary. Writing more content, utilizing more links, and using a wider variety of keywords is an excellent forex marketing strategy to rank higher over time.
When researching Forex SEO, it's essential to take the time with your keyword research. Keyword research assists you in determining which keywords to target and gives vital insight into the questions your target audience is searching for on search engines. The insights you gain from these simple search phrases can assist your content strategy and overall marketing plan for your Forex company.
People use various terms to seek solutions on the internet when researching. Therefore, you can gain more website traffic if the material you provide successfully reaches your audience when they are performing searches. As a consequence of this, you need to concentrate on searches like these.
2. Consider Your Web Content
Content is undoubtedly the most adaptable and successful resource as long as it is correctly delivered to the target audience. Your marketing team may build a single piece that can be utilized for a website's main page, a blog post, an email campaign, or other purposes. And if there's one thing we can be sure of in Forex digital marketing, the function of content will only become more substantial, so make every piece of content you generate work as hard as possible across many platforms.
In addition, engaging blogs and articles frequently generate discussion topics, which is an excellent way to build a network of individuals with influence. In contrast to forced content, refined and personalized content enables things to work more organically. We shouldn't produce material based on what we want to teach Forex clients; rather, we should generate information based on what they want to learn.
3. Create or Find Forex Affiliates Programs
Forex affiliate programs may greatly augment your revenue while providing value to your clients. There are a variety of techniques to this depending on your setup and circumstances, ranging from ones that rely on personal introductions to others that allow you to generate money from your site without making the extra effort.
But keep in mind that you'll receive more from being a Forex affiliate if you put in the time and effort to make it a success. Everyone in the Forex business is trying to make money, so go out to your competitors and encourage them to affiliate your services on their website in exchange for a tiny referral percentage. Maybe you'll find a competitor eager to help you and provide traffic and leads to your website. Remember that if your affiliate program is worthwhile and timely, you will likely attract many professional Forex brokerage players.
4. Invest in Education
Any digital marketing strategy for Forex trading should incorporate customer education, regardless of the type of traders your organization is targeting. The Forex market is a challenging sector to grasp, and every trading platform is built on solutions that need onboarding. Even if you believe that most of your clients have substantial experience, initiatives like instructional webinars and a few tips will give you the image of a customer-focused Forex business.
Educational resources, projections, and trading signals will always be in demand since they cover many active traders – from newcomers to experienced traders. Customers want detailed instructions that solve particular questions. They want current information and how to navigate the Forex market to make the best decisions. Creating relevant content is the best way to engage with potential customers.
5. Create Lead Oriented Content
Creating content that informs, inspires, and compels your visitors to share is important in generating leads. Because email lists have taken over social media, add one to your Forex digital marketing strategy. Advise on how to trade, what measurements to take, what techniques to use, and what's happening in the Forex market. If potential traders find the material valuable, you're already on your way to achieving Forex leads.
Content is developed not to earn money, but to attract, acquire, and engage new clients. Videos, infographics, Visuals, Webinars, EBooks, quizzes, manuals, and case studies are examples of top informative material. You need to relax and take time to grasp your target market, and your marketing approach and content must be unique and successful compared to others. Not only does hosting webinars or live videos make great content, but most lead-generation campaigns have minimal marketing costs.
6. Localize Forex Marketing Campaigns
The global community of FX and cryptocurrency traders is massive, with close to 10 million customers. Its goal is to get access to new audiences and markets, raise awareness, generate demand, and, as a result, enhance your sales and conversion rate. Localization helps your brand to be global while remaining local.
The Forex industry is widely spread worldwide, with Asia having the most traders, North America and Europe, and then the Middle East and Africa. It pays for Forex marketers to target advertising to specific nations to maximize relevance for each market circumstance. This entails localizing ad content with creatives tailored to the target demographic regarding language, cultural conventions, and values.
7. Find The Right Social Media Platforms
If you are looking for cost-effective solutions for your Forex online marketing, social media is the best solution for your business. Many Forex brokers use social media as a fast way to interact with their existing customers and help build their brands. Most of these platforms are free to use, and you can put as much time and effort into creating your brand-related blog posts.
You don't want to ignore social media entirely, even if you're not actively seeking potential leads through this channel. The very existence of a social media presence instills trust in consumers, and it is an excellent method to engage with your customers.
Even if a business does not rely heavily on social media accounts for advertising, it is a good idea to evaluate user behavior to see what they say about you. Identifying the social media platforms where most of your users are situated may also give you insights into new methods to engage with your target audience.
8. Create Brand Loyalty with Specialty Bonuses and Programs
Every business benefits from a devoted customer base because they are willing to learn about new goods and services, write favorable reviews, provide critical comments, and defend your firm in public places. Furthermore, they might become brand ambassadors to bring in new clients.
Creating appealing loyalty programs can help generate leads to new investors through referrals or promote forex trading. The program can be tailored to what you want, and the reward system can be as lucrative as you wish.
The best part about the bonus system is that it allows you to be creative in developing sophisticated tier-based fees and compensation programs that match your advertising efforts flawlessly.
9. Personalize Your Forex Online Marketing Strategy
You need to be ready to break through the data pollution created by other Forex marketing programs. It is crucial to establish precisely what sets your firm apart from the competition and how you will tell potential customers about yourself.
At the moment, the Forex sector is rather crowded with multiple brokers, and for the most part, they all provide the same thing. This will make it more challenging to differentiate your product in terms of your brand and its characteristics. As a result, brand recognition is critical. It will be required to educate your audience on the benefits of trading with your specific FX broker, in addition to the fundamental considerations of tight spreads, round-the-clock assistance, and a wide range of trading products. However, these features are essential to mention. The technique for increasing brand recognition is unique to each Forex firm and its target audience. Sports sponsorships and partnerships, as well as the development of an extensive affiliate network, are two typical industry examples.
Determine how you want to communicate about your Forex business, what makes you distinct from your competitors, and to whom you wish to send your message in the first place. This is the fundamental approach to executing a Forex broker's marketing plan.
Conclusion
In light of everything that has been discussed so far, the most reasonable conclusion that can be drawn is that it is to your advantage to make your Forex marketing efforts as focused as possible. Once you have determined your audience and the message you want to convey, you can go to work and target precisely the proper group for your Forex digital marketing plan. This may include influencer marketing, digital marketing, lead generation campaigns, etc. Since making judgments based on facts is always ideal, the more concepts, theories, and marketing items you can include in your promotion testing, the better.
Even though it might seem hard to get paid clicks with a small advertising budget, the quality of the leads you get from the above strategies will be much higher. Not only do these leads come from recommendations, but they also go through a full conversion funnel that is built around education and a smooth introduction to the world of online trading.
Aspiring forex traders will be drawn to a marketing strategy that educates them and makes them feel appreciated and comfortable. Make sure to discuss your Forex services and what your brand does to differentiate itself from its competitors. Use marketing strategies that relate to a potential client and offer cost-effective solutions for Forex trading.