15 Best Forex Affiliate Programs in 2023
As Forex grows in popularity, more people are looking for innovative and profitable ways to participate in this volatile market. Looking for the best forex affiliate programs is a major approach that has gained traction in recent years. When you
start a Forex business
, programs such as these can help build your social media and pocket.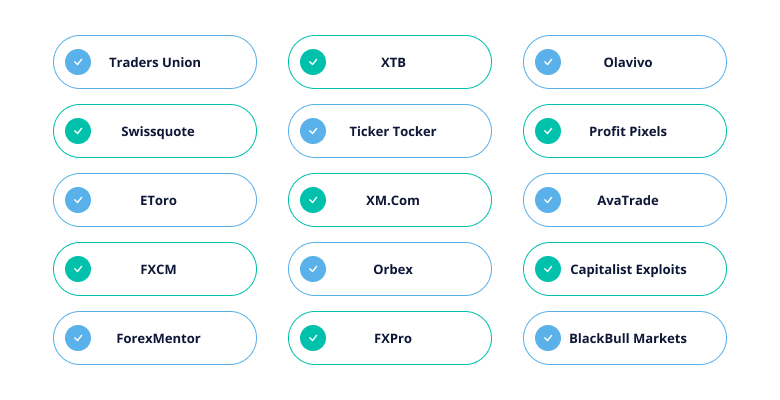 A Forex affiliate is a phrase used to describe someone who does not necessarily trade but earns money by advertising a specific Forex platform. This is also known as a broker affiliate program at times. There are various sorts of Forex affiliate programs accessible, with the better ones frequently offering high ticket commission rates.
The procedure is straightforward. You will be issued a unique affiliate link when you join one of these platforms. This link is shared on your blog or social media networks. When someone clicks on the link, a "cookie" is saved in their browser; you profit if they register and deposit dollars into their account.
If you manage an investment publication, you already understand how critical it is to optimize your returns. While Forex can be a powerful type of investment, bloggers and authority site owners who want to increase their incomes can provide forex affiliate programs to assist them in achieving their objectives.
The programs listed below are the best forex affiliate programs in 2023 for various reasons.
Traders Union Affiliate Program
The Traders Union is a Forex affiliate marketing network that pays affiliates up to 75% commissions. The program is free to join, and there is no minimum earnings requirement. Affiliates must promote the Traders Union brand and website through their affiliate link.
The Traders Union is a respected Forex broker that provides affiliates with a wonderful possibility to earn commissions on their trading activities in the financial markets. The firm is licensed in the United Kingdom and is a regulated Forex broker. They offer their clients a safe and secure trading environment in the forex industry.
Website: Traders Union
Commissions: up to 75%
EPC: N/A
Cookie Duration: N/A
XTB Affiliate Program
The FCA (Financial Conduct Authority), CySEC (Cyprus Securities & Exchange Commission), and the FSC govern XTB, a worldwide trading platform.
Traders may access extensive instructional materials, a complete set of trading tools, and charts from the platform's trading university to help them with their trading activity. In addition to the desktop functionality, XTB is accessible for download on mobile devices and web browsers.
Members of the XTB affiliate program can earn up to $600 in commission and use a specialized CPA model, which will aid in measuring the effectiveness of your affiliate campaigns by delivering detailed earnings statistics. The XTB program will provide you with a dedicated affiliate manager to assist you in improving your earnings through affiliate programs.
Website: XTB
Commissions: up to $600 per new referral (based on certain qualifications)
EPC: N/A
Cookie Duration: N/A
Olavivo Affiliate Program
When it comes to affiliate marketing, the Olavivo affiliate network is among the finest in the business. Unlike other affiliate programs, the Olavivo affiliate program provides a one-of-a-kind chance to make commissions on various financial items, including the foreign exchange market, money stocks, and CFDs.
It provides high commission rates, round-the-clock service, and many marketing tools. They are well-known for being completely transparent and having a vast choice of marketing materials to assist in your success, and they are accessible in 50+ GEOs and 10 languages.
Olavivo has some of the most outstanding and experienced account managers who are always eager to assist you. When it comes to traffic, they provide real-time reporting tools to assist you in analyzing your traffic and conversions, as well as an in-house personal account manager who can give you all the assistance you want to succeed.
Website: Olavivo
Commissions: $250 per new referral and 5% commission
EPC: Varies
Cookie Duration: 90 Days
Swissquote Affiliate Program
Swissquote is a multi-asset trading platform that can support a variety of trading methods. The firm provides Forex, cryptocurrency, and other assets in the financial industry. Swissquote is well-known for being a solid investment option and Forex trading platform.
When enrolling as a partner with Swissquote, you have two alternatives. The first is a straightforward affiliate scheme that allows you to become a sponsor by sharing an affiliate link and earning a commission when someone registers and funds their account. The Introducing Brokers Partnership plan provides more lucrative prospects, but it may also need more effort on your part. Because the Swissquote platform has several account kinds, you may focus on private clients and institutions when recommending people to this Forex affiliate program.
Website: Swissquote
Commission: up to 800 EUR per new referral
EPC: N/A
Cookie Duration: N/A
Ticker Tocker Affiliate Program
Ticker Tocker has received many accolades in recent years for being one of the greatest and most creative fintech startups. It's a social network-type website where users can obtain real-time trading ideas while enhancing their abilities and learning new tactics. It is also registered with the US SEC.
And the nice aspect is that it is ideal for traders of all levels, from absolute beginners to those who trade professionally. Ticker Tocker is also available as an app for iOS and Android smartphones, allowing you to trade Forex on the go.
Website: Ticker Tocker
Commissions: 30%
EPC: 105.91
Cookie Duration: 90 Days
Profit Pixels Affiliate Program
Profit Pixels offers a diverse product portfolio, including Forex and Binary Options, making it simple for Forex affiliates to locate profitable offerings to market. They also accept a variety of payment options, including PayPal, Bitcoin, and other cryptocurrencies.
This firm features a high-tech platform with machine learning algorithms to help them achieve the greatest conversion rates. They've also recently introduced the platform's first direct services, with very attractive payment rates. They provide native-speaking call centers and are present in over 120 GEOs.
Website: Profit Pixels
Commissions: 1% monthly commission per referral.
EPC: N/A
Cookie Duration: N/A
eToro Affiliate Program
eToro is an online social trading and investing platform that enables users to trade currencies, equities, indices, and commodities. The firm was established in 2006 and is based in Cyprus. eToro is largely regarded as one of the top Forex affiliate marketing platforms available. The organization provides excellent commission rates and a wide choice of marketing resources to assist its affiliates in succeeding.
eToro has a fantastic affiliate marketing program with a sliding scale of commissions. In addition, the firm offers a variety of promotional tools to assist its affiliates in flourishing.
eToro has a vast client base and is one of the world's most popular Forex brokers' affiliate programs. As a result, it is an ideal option for affiliates wishing to advertise a Forex trading product. eToro provides extensive training to its Forex affiliate program, minimizing the time it takes for new partners to learn about the eToro partner program in return for selling their products and services.
Website: eToro
Commissions: 25% revenue share
EPC: N/A
Cookie Duration: N/A
XM.com Affiliate Program
With over two million professional traders in more than 180 countries, XM is one of the world's top Forex brokers. On the MT4 and MT5 platforms, XM provides a comprehensive range of trading products and services, including Forex, stocks, indices, commodities, and CFDs. The XM affiliate program offers four different types of affiliate marketing. The most common is the Local representation, in which you act as an XM representative.
Money management software allows you to manage many accounts via its trading platform and earn money from commissions and transactions, making it simple and rewarding. You will be compensated for each referred client that completes a transaction or deposits a certain amount.
The XM Forex affiliate program pays a commission of up to $25 per lot to its affiliates. The commission is paid on a sliding scale, with the commission percentage growing as the referred client's total trading volume grows. There are multiple payout options to deposit money.
Website: XM.com
Commissions: $25 per referral
EPC: N/A
Cookie Duration: N/A
AvaTrade Affiliate Program
The platform is called AvaPartner and is dedicated to assisting every affiliate in their efforts to promote the AvaTrade program. One feature that distinguishes AvaTrade is that they are renowned to pay out big fees on successful referrals that originate from your affiliate links. The payment arrangements available are also adaptable, allowing you to profit however you see fit.
For promotional reasons, creative media is available on the affiliate dashboard. There are also creative support teams available to assist you in determining which banners and promotional materials are most suited for your campaigns. As an affiliate, you will be assigned an affiliate manager who will personally respond to your inquiries.
AvaPartner has a comprehensive reporting system that provides a clear picture of your profits, referrals, and affiliate account performance.
Website: AvaPartner
Commissions: Varies
EPC: N/A
Cookie Duration: N/A
FXCM Affiliate Program
No FX affiliates costs are associated with the FXCM Affiliates platform, so you may sign up for free. Please remember that your affiliate account will not be active immediately. It will undergo a screening procedure, and you will receive a response to your application within five business days.
You must satisfy certain requirements to join FXCM. The applicant must be at least 18 years old. You must also give FXCM a description of how you intend to drive traffic to your affiliate links. Websites, mobile applications, and blogs are acceptable if they are relevant to trading and financial business. Before your account is approved, the properties you supply during the registration process will be examined by the FXCM affiliate team.
Website: FXCM
Commissions: $75 fixed plan
EPC: N/A
Cookie Duration: N/A
Orbex Affiliate Program
Orbex, a licensed Forex and CFD broker, has an appealing affiliate marketing scheme. The program pays commissions on the trading volume generated by suggested clients, with no maximum commission amount. Orbex also offers a significant compensation plan to affiliates who refer new clients to the firm. Regardless of the product or market transacted, the commission is paid on all transactions made by referred clients. Forex, CFDs, and metals are all examples of this.
The Orbex affiliate network is a terrific method to earn money from your website or blog without having any financial market knowledge. Orbex has a significant compensation program for affiliates who refer new clients to the organization. The affiliate will get a $28 incentive for each client that deposits up to $1,500 CPA. The amount of bonuses that may be earned is unlimited.
Website: Orbex
Commissions: up to $1,500
EPC: N/A
Cookie Duration: N/A
Capitalist Exploits Affiliate Program
Capitalist Exploits is operated by proven hedge fund managers who make their personal trades available to Insider and Resource Insider customers. Customers have given them an "excellent" rating on TrustPilot since its start in 2016.
They'll do whatever to assist you in success, including customized promotional deals, specialized landing pages, or innovative marketing funnels that convert your visitors the best.
Website: Capitalist Exploits
Commissions: up to $1,750 per sale
EPC: N/A
Cookie Duration: N/A
Forexmentor Affiliate Program
Forexmentor welcomes you to assist us in spreading the news about the internet's most trustworthy Forex training resources. You can earn a substantial reward through their affiliate program by posting text links or banner advertising on your website. Website proprietors are profiting handsomely from offering our Forex training programs and courses to their website users.
Forexmentor has teamed with a recognized and established affiliate network. Using cutting-edge internet technology, the Sharesale network monitors its affiliates' sales actions. As an affiliate, you may access your own administrative portal to track sales and click-through activity. Sharesale sends your monthly commission check.
Website: Forexmentor
Commissions: 30% per sale
EPC: 6.40
Cookie Duration: 60 Days
FXPro Affiliate Program
Our partner dashboard summarizes the previous month's income, numerous trading activity data, registrations, deposits, withdrawals, and everything you need to market your business.
Website banners and widgets are examples of exclusive marketing materials. Gain access to promotional content and download comprehensive client reports. In seconds use the IB link builder to generate your personalized partnership link and withdraw profits using a variety of customizable payment choices.
Website: FXPro
Commissions: $1,100
EPC: N/A
Cookie Duration: N/A
BlackBull Affiliate Program
BlackBull Affiliates is the partner referral program of BlackBull Markets, a top-tier, award-winning, and financially registered FX broker with an outstanding reputation and worldwide confidence.
BlackBull Affiliates is a brand-new affiliate program in the Forex market. As one of the world's fastest-growing brokers, BlackBull invests in all of the latest technologies affiliates require to earn significant payments through their program. Every aspect of their affiliate program has been thoughtfully developed to satisfy the demands of forward-thinking internet marketers in an ever-changing financial referral marketplace. Become a partner today and begin expanding your business with a forex broker you can rely on in the long run.
This affiliate program is ideal for the providers of SEO services that utilize their website, email, social media, or other forms of advertising that do not have direct contact with traffic. To properly market this program, you do not need a website.
Website: BlackBull Markets
Commissions: up to $600 per referral with unlimited earning potential
EPC: N/A
Cookie Duration: N/A
Conclusion
You don't have to know much about global markets to earn passive income. It's easy when you join a Forex affiliate program. With their online marketing tools and knowledgeable affiliate network, you can start making money by posting a link on your social media and websites.