Case Study: How We Increased Organic Traffic by 4 times for Online Forex Broker
In this case study, we show in detail how, with the help of a dedicated SEO team, we were able to increase organic traffic by 4 times on 7 target GEOs (from 43.6K to 186.9K monthly users) for an online forex broker-client site.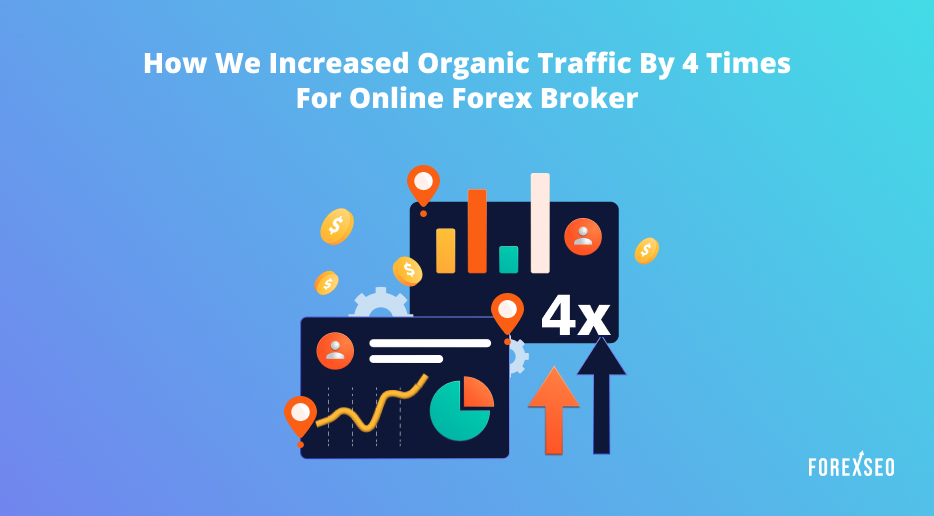 Initial data:
Domain age: 19 years
Niche/market: Online Trading Broker
GEO: Iran, Malaysia, Nigeria, India, Vietnam, South Africa
Organic traffic per month at the beginning of work:
10.1k users — Nigeria
13.2k users — Iran
3.2k users — Malaysia
4.3k users — India
6.5k users — Vietnam
6.3k users — South Africa
Backlinks: 2.8k ref domains (most of them are spam).
Technical and on-page optimization:
Incorrectly composed robots.txt file
Errors in the sitemap.xml sitemap
Pagination errors
Unoptimized images
Duplicate metadata
Duplicate content
Slow loading speed for individual pages on the site
Content:
At the start of work, the content was not optimized; there was also non-unique content on the site, and the texts on focus pages for promotion were too short.
Many pages contained duplicate content.
Period of link promotion: Apparently, work was carried out to build up the link profile.
Here are the results we were able to achieve during the SEO campaign for our client: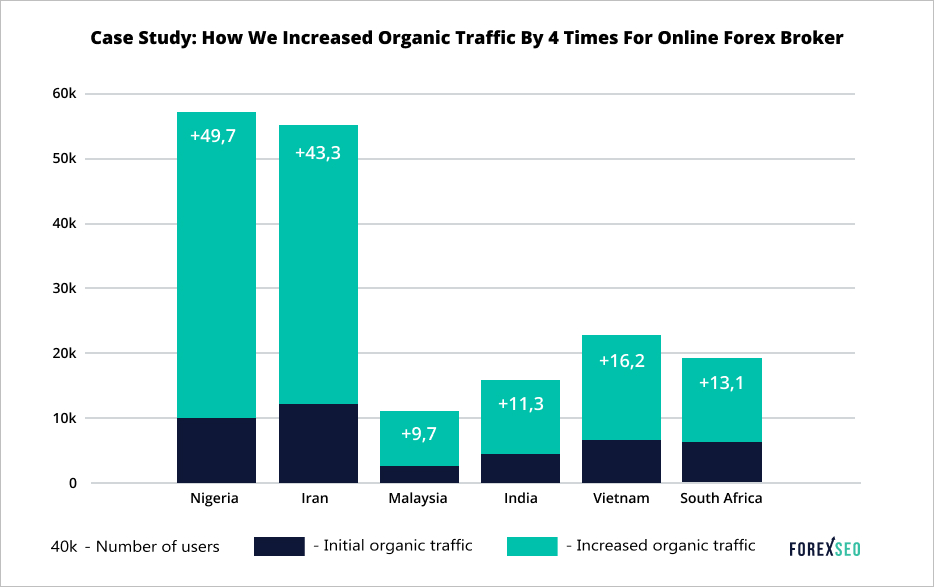 Fill free to contact us if you have any questions and we'll take a closer look at our SEO case study.
Want to Increase Your Organic Traffic?
Lets Talk
Introduction
At the start of work on the site, there were obvious problems with technical optimization. The website had not been optimized for language versions (11 languages); also, there was a non-organic anchor list and numerous referring domains with low trust.
On the eve of the start of work, the client voiced his expectations — in general, to increase visibility for 6 top-priority products and to increase search traffic due to the growth of conversions.
To achieve the set goals, we decided to expand the site structure and create traffic-generating pages with informative, unique content (blog), optimize the content on the main landing pages, extend the semantic core, and correct technical errors. But the client was not ready to implement technical corrections, rewrite the content, or entrust us with these areas of responsibility.
Therefore, we focused on link building since it was the only thing we could influence on our own.
The buildup of the reference mass took place slowly and smoothly, without allowing any jumps.
The project budget allowed us to purchase 10 guest posts and make 30+ manual links for each GEO, with a gradual and unhurried increase in the number of links to each region. Each referring domain needed to be selected as carefully and efficiently as possible since, in this strategy, we focused on links. It was impossible to make a mistake.
Tasks of the project
Tasks can be conditionally divided into several stages.
The main tasks of the first stage of promotion:
Analysis of competitors
Technical audit of the site
Analysis of the link profile
Development of an SEO strategy
Link building
The main tasks of the second stage of promotion:
Drawing up terms of reference for creating new landing pages and collecting relevant semantics
Internal linking optimization
Create a technical task for updating the content (but the client did not implement it)
Link building
The main tasks of the third stage of promotion:
Cleaning the anchor list from spam anchors
Updating the requirements for selecting sites for placing links
Checking positions in SERP to create a plan for optimizing sagging ones
Link building
Main work on the project
When working on the project, we carried out the above three stages of work. This sequence of actions was crucial for SEO.
Competitor analysis, technical audit, and link profile analysis made it possible to determine a strategy for further promotion of the client's website.
The main goal of optimization was not only to increase traffic but also to improve visibility for 100 keywords related to the products of the customer's company, which the customer provided himself.
But since the client did not want to make technical changes, update, and optimize the content throughout the entire cooperation, we were forced to shift the emphasis to link building.
Therefore, for each region, we set up a team that was engaged only in that GEO. They performed similar tasks but with different requirements. Based on the analysis of competitors' link profiles, we made anchor plans and strategies for each GEO, as well as minimum indicators for referring sites.
So each of the regions has its own strategy: 5 to 20 outreach posts and 30 to 50 manual submissions monthly, depending on the GEO. And the number of referring domains per month increased gradually so that, to Google, it all looked as organic as possible.
We tried to choose the highest-quality referring domains because almost everything depended purely on the backlinks that our colleagues built.
Great care was taken to ensure that the referring domains were in the domain zone of the region we needed. This was extremely important for a targeted SEO campaign in individual GEOs.
Also, it is worth noting that we were not engaged in the SEO of all the GEOs at once. It all depended on the needs and priorities of the client.
Results
As a result of this work, we were able to increase traffic not only on the targeted GEO but also on the entire site. The site showed a steady growth of organic traffic throughout the SEO period: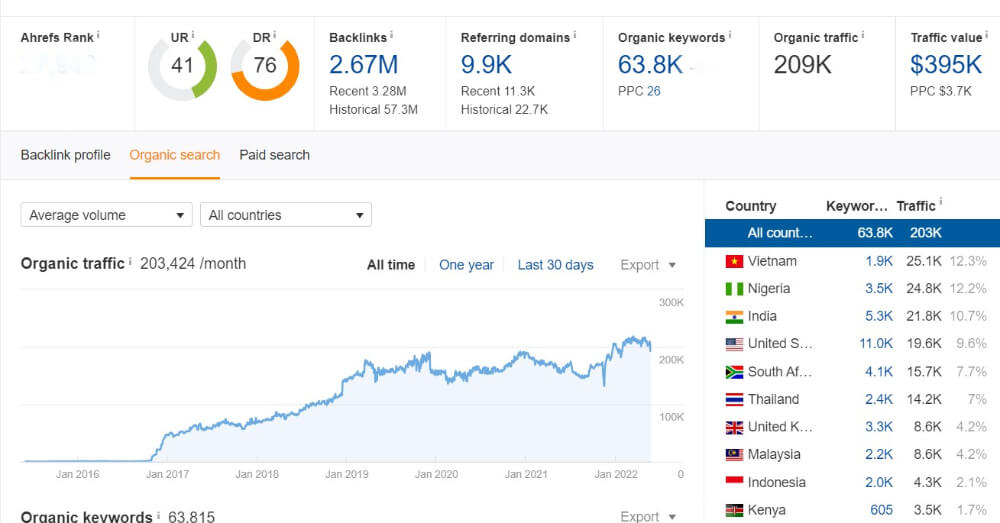 Below, we have listed the results we achieved for each target GEO on which we focused our work:
Nigeria
In almost 2 years, SEO has managed to increase organic traffic in Nigeria from 10.1K users to 59.8K users per month.
Before: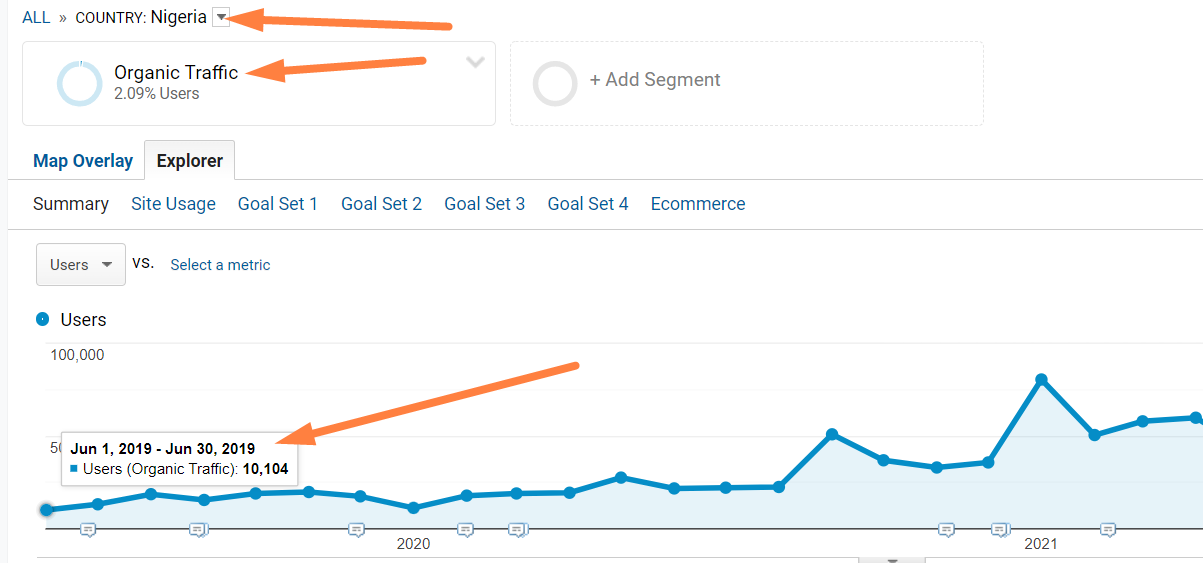 After: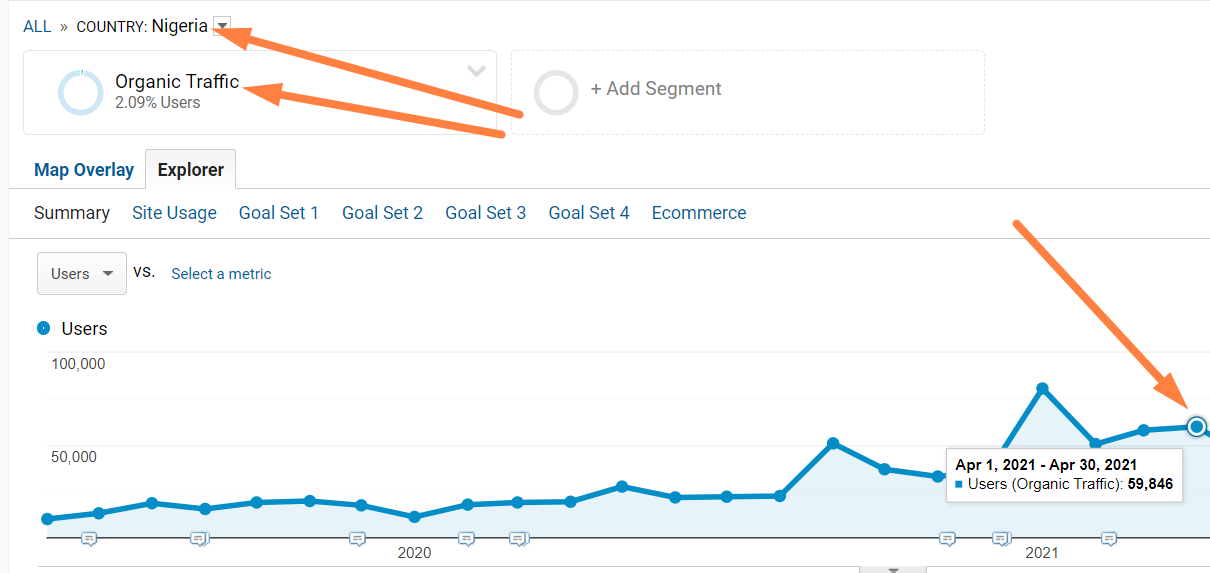 Iran
For the Iranian market, we have been working on SEO for a year, and in that time we increased organic traffic on the site from 13.2K users to 56.5K users per month.
Before: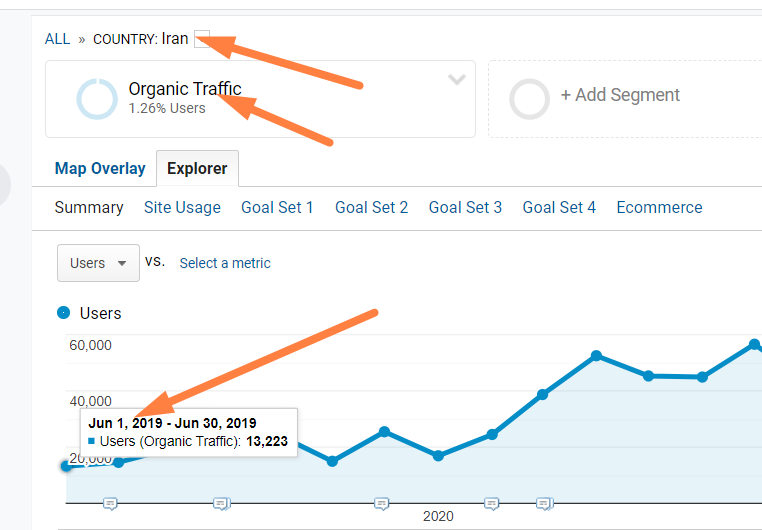 After: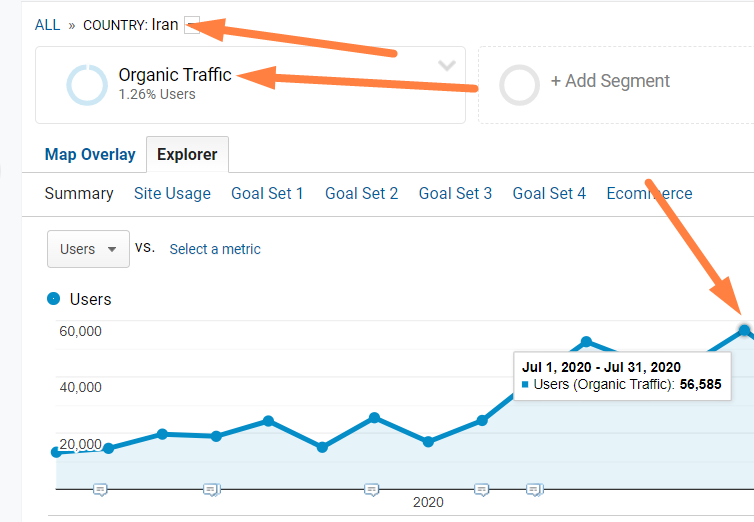 Malaysia
We have been working in Malaysia for 14 months and increased organic traffic in that time from 3.2K users to 12.9K users per month.
Before: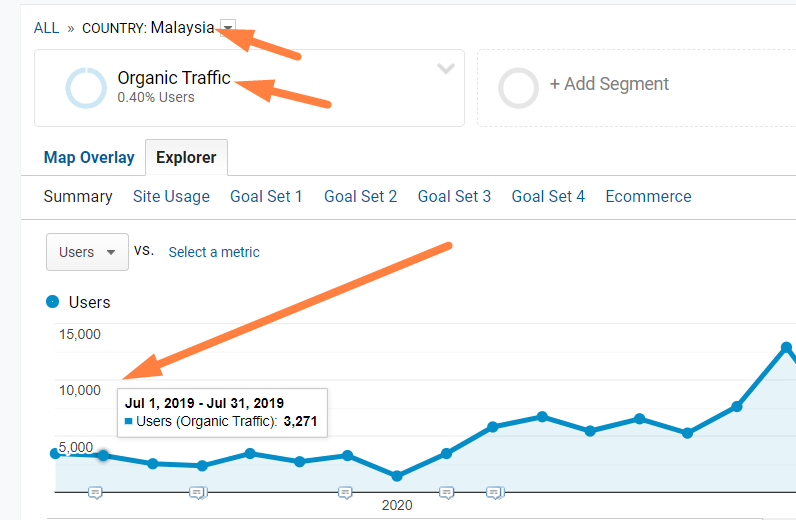 After: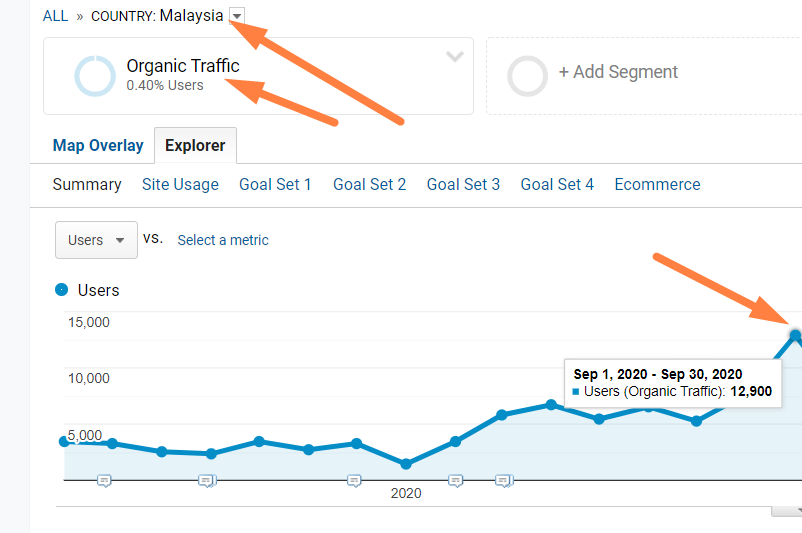 India
We started with 4.3K users per month, and within 1.5 years, we increased the traffic to 15.6K users per month.
Before: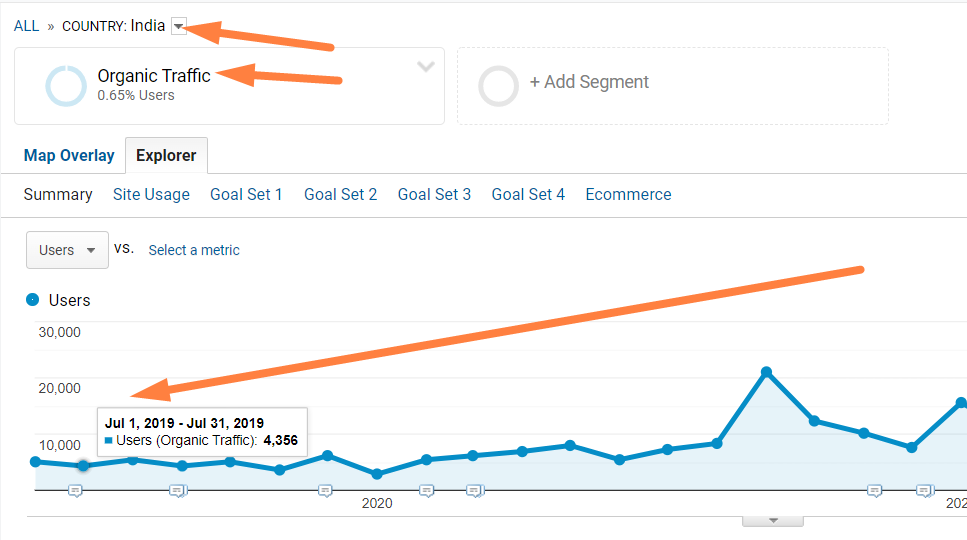 After: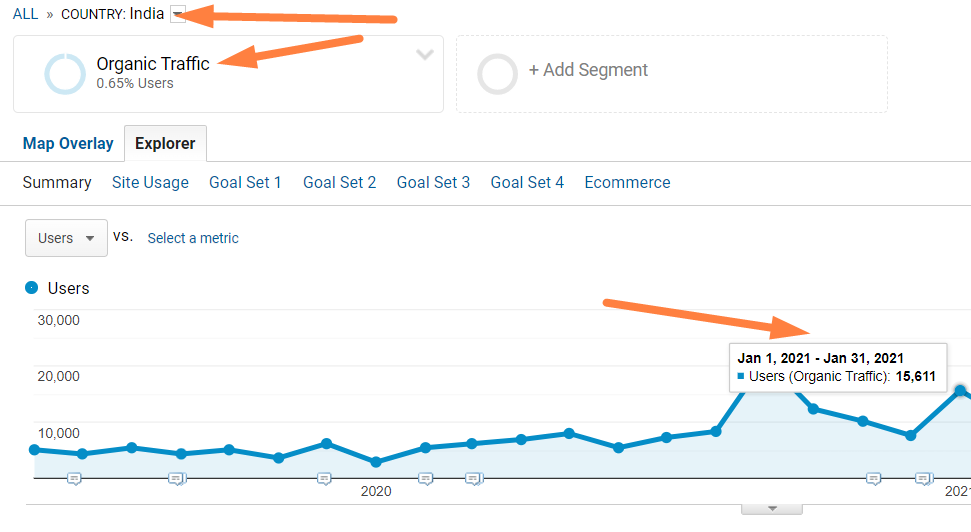 Vietnam
During our 14 months of work in Vietnam, we have increased organic website traffic from 6.5K to 20.7K users per month.
Before: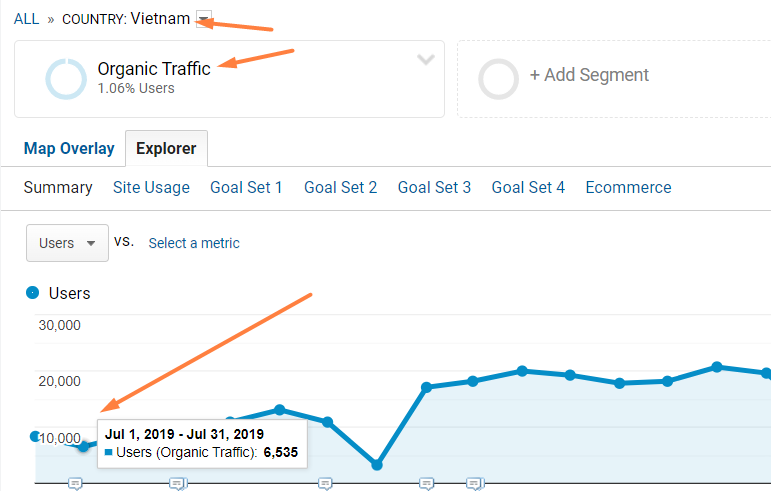 After: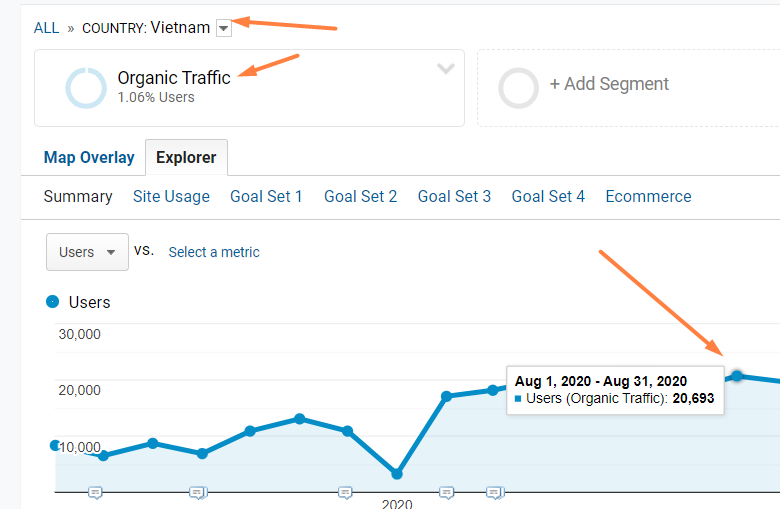 South Africa
In this region, we increased organic traffic in 1.5 years from 6.3K to 19.4K users per month.
Before: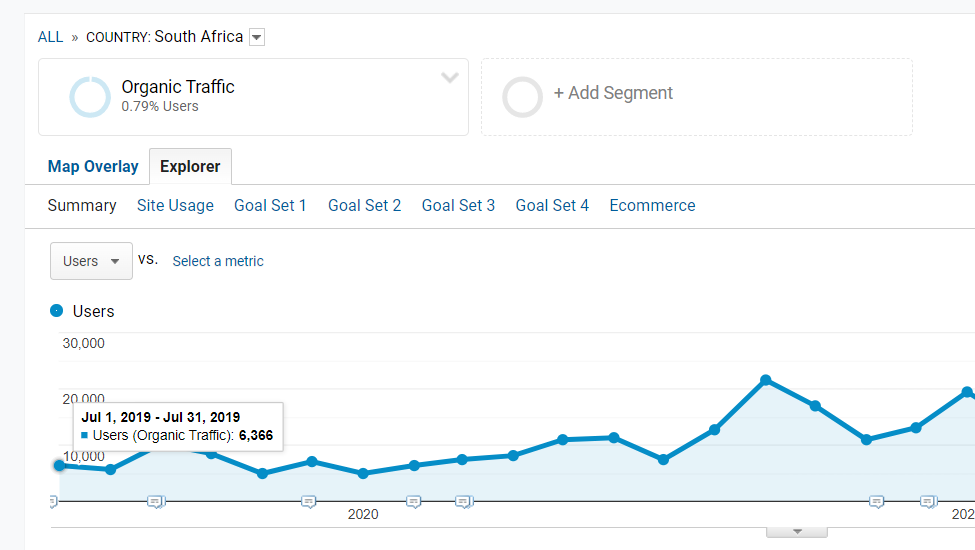 After: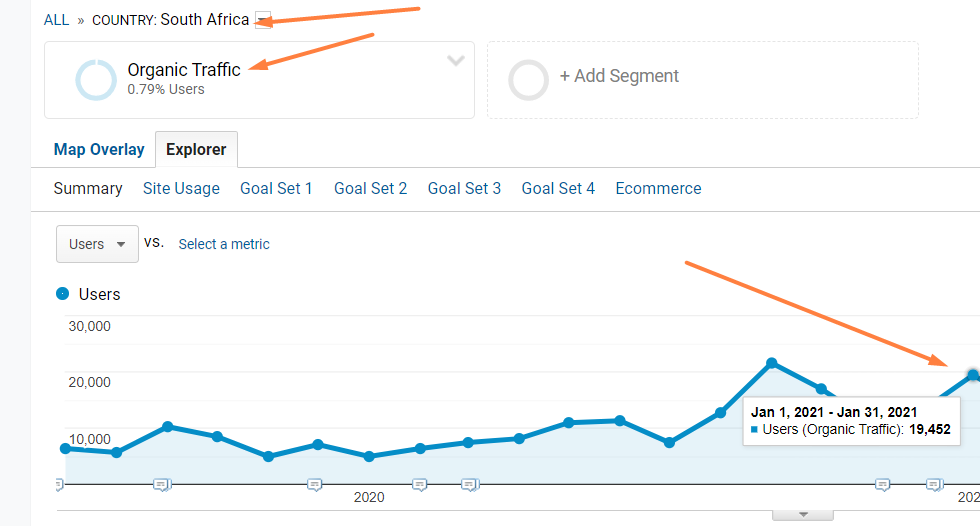 Conclusion
The main obstacles we faced in this project were the constant spam from competitors and the unwillingness of the client to make any changes to the project in terms of technical, content, or on-page optimization.
First of all, we worked on disavowing low-quality backlinks using Google Disavow.
And there were quite a lot of links searched by the direct anchor from trusted resources. So we had to disavow carefully, which we did.
The second task was to build links separately for each region, and with a unique strategy for each of the GEOs.
In this case, we used outreach from trusted thematic sites, several PBNs, and manual submits.
The visibility of the keywords that the client provided at the beginning of our cooperation increased from 7 to 97 out of 100.
Despite the obstacles, we increased organic traffic for the project in these locations:
Nigeria: 5.9 times to 59.8K users per month;
Iran: 4.3 times to 56.5K monthly users,
Malaysia: 4 times to 12.9K monthly users,
India: 3.6 times to 15.6K monthly users,
Vietnam: 3.2 times to 22.7K monthly users,
South Africa: 3.1 times to 19.4K monthly users.