Case Study: Increasing Organic Traffic from 55 to 3,500 users per month for a low-budget Forex Affiliate Site
In this case study, we show how in 1.5 years, we have managed to increase organic traffic from scratch to 3,500 users per month for a forex trading affiliate site with a low budget for SEO promotion.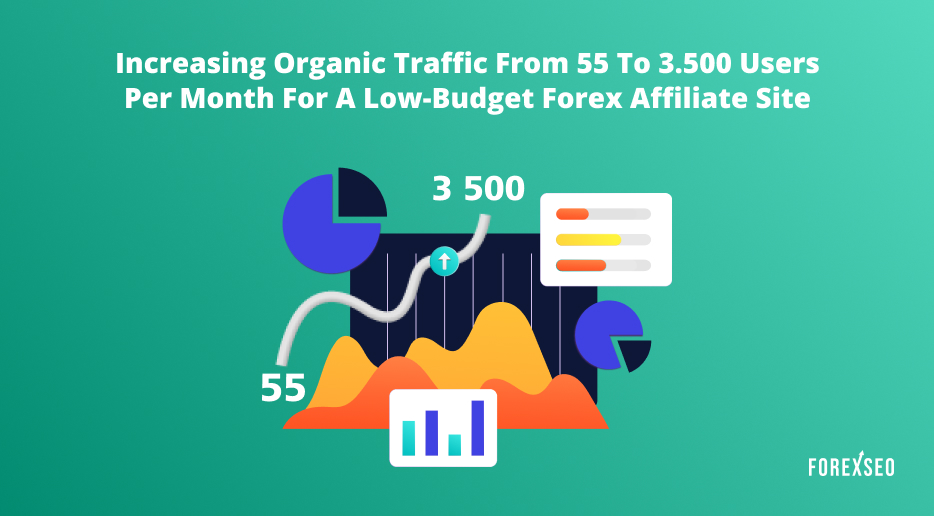 Initial data:
Domain age: 2 years
Niche/Market: Forex trading affiliate website
GEO: Indonesia, USA
Organic traffic at the beginning of work: 55 users per month
Backlinks: 200 referring domains
Technical and On-page Optimization:
Double slashes
404 errors
Lack of Alt tags for images
A ban on embedding a site through an iFrame was not configured
Duplicate title and description
Incorrect implementation of language versions
Several H1 tags on one page
Multiple errors in the header structure
Slow site loading speed
Problems with optimization for mobile and desktop devices
Incorrectly configured internal linking
HTML code improvement was necessary.
Content:
We started the project practically from scratch, and there was almost no content on the site. Only a few pages were written.
Want to Increase Your Organic Traffic?
Lets Talk
1. Introduction
The most important thing in the first stage was the high-quality implementation of analytical tasks. It was necessary to develop the correct long-term and short-term SEO strategies based both on personal experience and a detailed analysis of competitors in the niche.
It was also necessary to decide on the main directions and regions of promotion. Based on the above, we decided to implement a number of tasks that are vital for the project.
2. Tasks of the project
Let's divide the tasks into three main conditional stages:
Analytical tasks:
Collection and analysis of basic semantics
Analysis of the link profile of competitors
Analysis of priority traffic pages of competitors
Analysis of the structure, internal linking, frequency of publication, and content updating by competitors
Development of a project SEO strategy
One-time voluminous tasks:
Technical audit of the site
Verification of the technical audit implementation
Development of recommendations on structure and internal linking
Collection of extended semantics
Development of a global link strategy
Creation of a content plan
Preparation of alternative non-standard optimization solutions
Systematic tasks:
Development of technical tasks for creating new content
Development of technical tasks for updating existing pages
Optimization of pages' meta tags
Updating the link building strategy
Development and implementation of anchor plans
Analysis of user behavior and related recommendations
Analysis of results, correction of the SEO strategy
Other minor recommendations
3. Main work on the project
As part of the strategy development and analysis of competitors, we decided to promote the site in several regions. As the main promotion regions for which a large portion of the reference budget was allocated, Indonesia and the USA were chosen. One of the main areas we focused on in our work was content.
Particular attention was paid to the systematic updating of the already published content. Some pages were updated once every 2-3 months, and some pages twice a month.
As for link building, most of the work was quite standard. After analyzing the competitors, we formed a pool of thematic and regional sites on which we planned to publish guest posts or submissions. Of course, we published only the highest-quality and least spammy resources.
Among our non-standard but important decisions, it was necessary to simultaneously launch satellites; their purpose was not to work as a standard PBN, but to attract search traffic. This strategy proved somewhat successful in driving traffic. Further, these satellites would be redirected to the main project.
4. Results
Obviously, the most interesting and important part of any case study is screenshots and diagrams. Below is a screenshot from Analytics with a monthly traffic graph: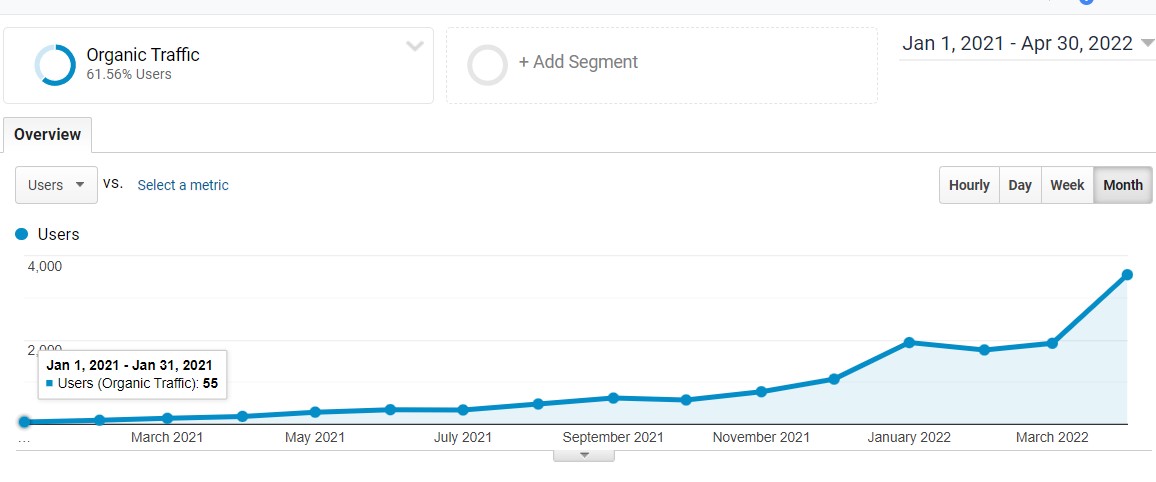 The domain was purchased in 2020, but no SEO optimization work had been done on the site until early 2021, and only a few articles had been posted on it. The exception was the placement of links in small quantities.
In January 2021, we began analytical work, and in February, we began the implementation of content and link optimization. From 2021 (beginning of work) until April 2022, traffic has increased from 55 to 3,500 users per month and continues to grow.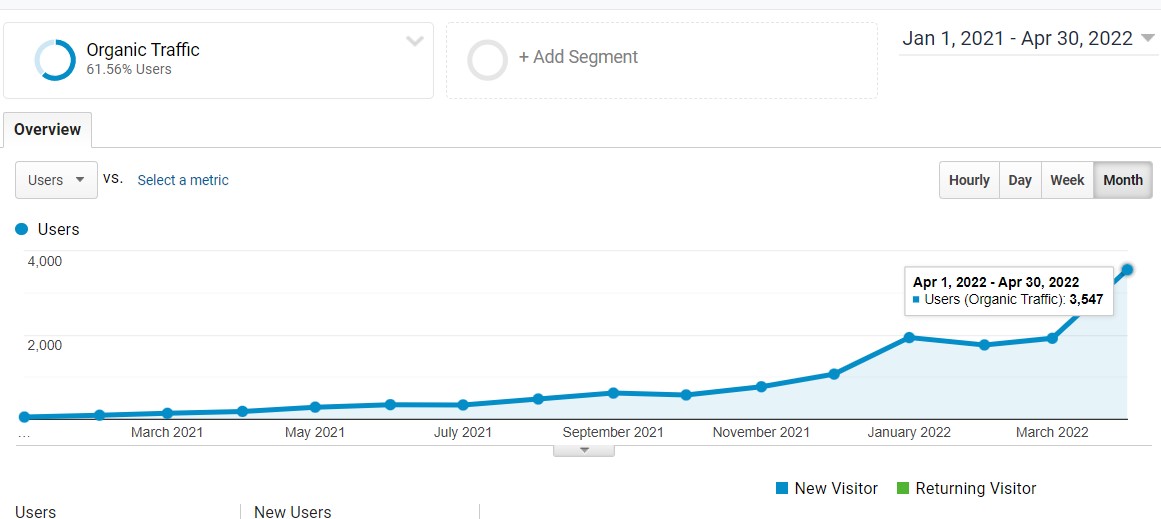 Also in parallel (in January-February 2021), we launched several satellites on the forex subdomain. The process of building their link mass was mostly done by placing submissions manually (but we did not use automatic link-building tools). In 6-9 months, some of the satellites began to bring organic traffic. We redirected them to the main domain. You can see the results in this screenshot from Ahrefs:

Redirecting the satellites also led to an increase in organic traffic: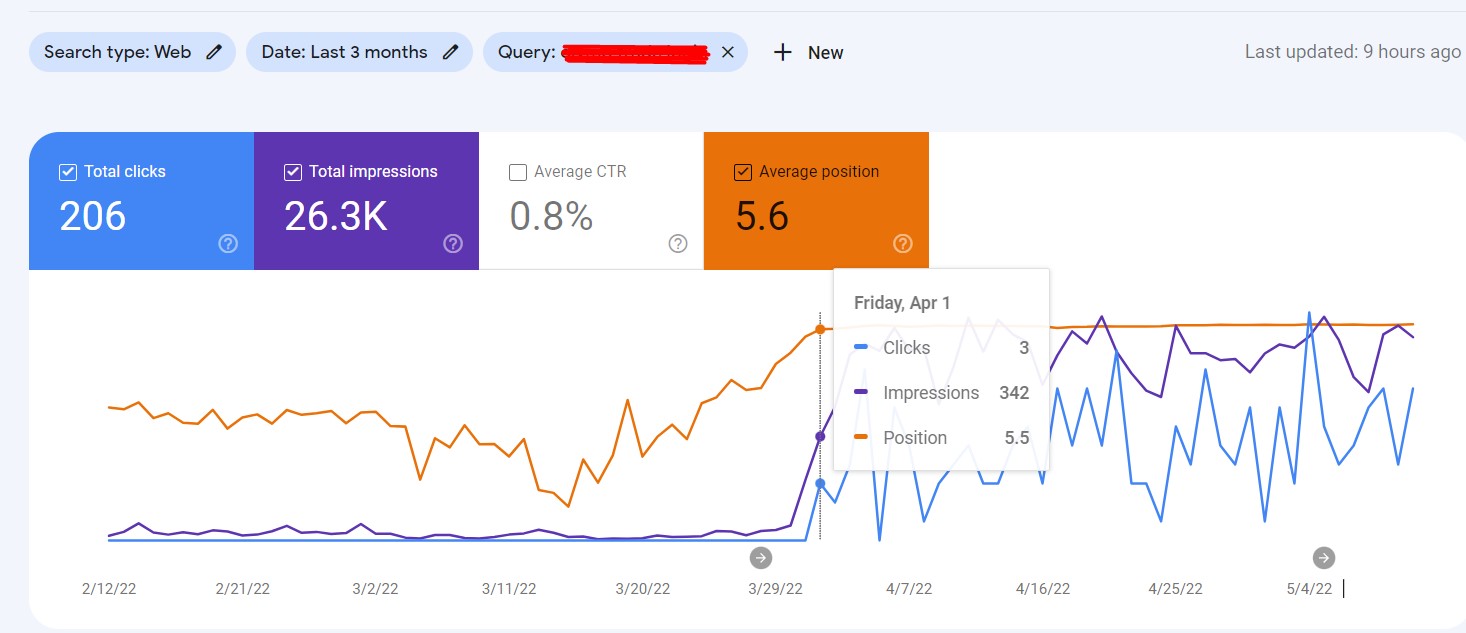 As you can see, the results of traffic redirection appeared not immediately, but 1-3 months after implementation. Here is an example of the growth of positions and traffic for one of the high-volume queries, by which the redirected satellite was ranked:
Traffic graph from GSC for the last 6 months: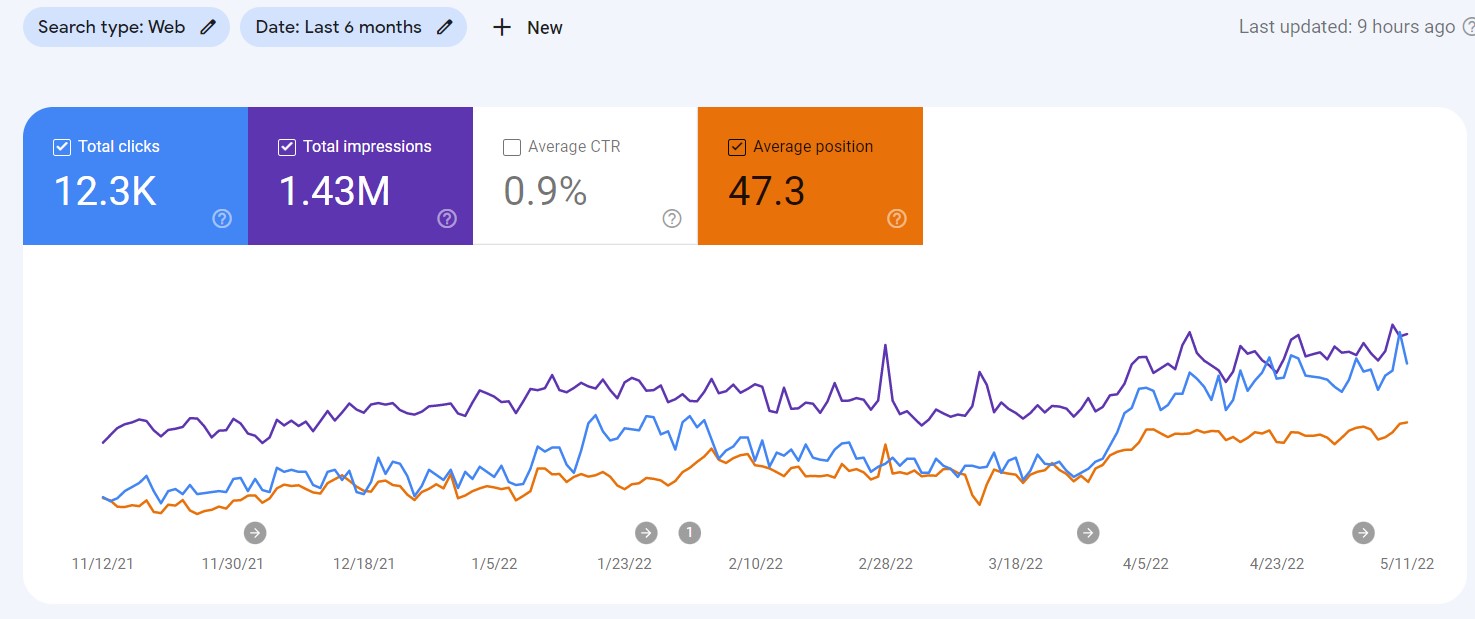 As you can see, there has been some traffic volatility, but it is insignificant. Long-term traffic dynamics are positive. In practice, the jump in traffic in April was due to redirecting satellites to the main domain (50%), and the increase in positions was due to the systematic implementation of SEO optimization work (50%).
5. Conclusion
The main challenge of the project was to conduct an SEO campaign in a highly competitive niche with a relatively low budget.
An important factor in the success of the project was investing our time in the deep analysis of the niche and its competitors, as well as preparing a good SEO strategy. One unusual decision in the strategy was to allocate funds from a limited budget for the creation of satellites. This made it possible to experiment with link building strategies (for most satellites, only inexpensive submissions were implemented), which, in turn, made it possible to be more flexible in adjusting the project promotion strategy.
For the main project, the link profile was boosted by both guest posts and manual niche-related submissions.
Key points:
An in-depth analysis was made at the start, which allowed us to develop the correct SEO strategy based on a data-driven approach.
All major technical aspects were worked out at the start, and even with a small number of pages, after the implementation of recommendations, the traffic began to grow.
We decided to launch satellites simultaneously. Some of them provided results in traffic, and then they were redirected to the main project. The main project also received a significant increase in traffic and visibility in high search volume queries after these actions.
A lot of time was invested in a systematic update of the content. Most articles that were regularly upgraded started to bring increased traffic.