12 Best Forex Podcasts to Follow in 2023
Podcasts have quickly risen to become one of the most popular forms of media. The best Forex trading podcasts are beneficial since they provide practical advice on trading, investing, risk management, trading psychology, and
Forex news
. You might learn new techniques or gain inspiration and motivation by listening to these podcasts.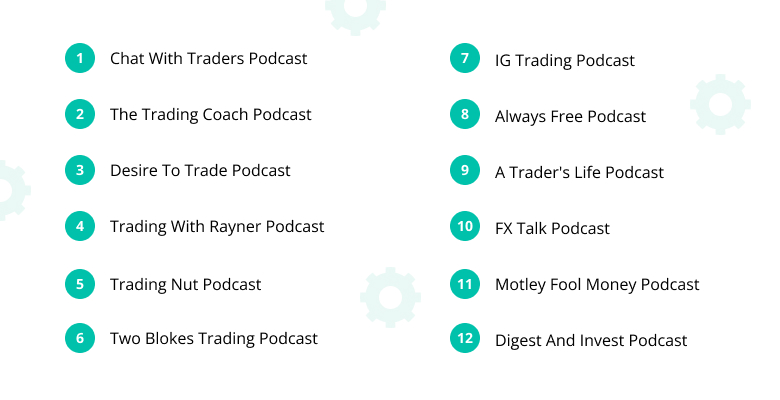 Forex trading podcasts are a good alternative for everyday traders who want to conserve time and devote it to trading and for beginners who may benefit from learning from those who have already traveled the same route. This list compiles the best forex trading podcasts to follow in 2023.
Chat With Traders Podcast
Aaron Fifield hosts this podcast that features a diverse range of expert traders, from high-frequency programmers to discretionary click traders from both the commercial and corporate trading worlds. He has become one of the top prop traders in his firm in Sydney, Australia.
Listeners can skip just reading about the experiences and adventures of famous and highly successful traders by listening to the interviews, which contain the emotional and personal depth of the people being interviewed. This podcast is essential for those taking trading in Forex markets seriously. Those aged between 35-50 will truly appreciate the advice being given.
When talking about Forex podcasts, Chat With Traders is one of the top Forex podcasts on the internet, which has led it to a large and loyal social media following.
Website: Chat With Traders
Listen On:
iTunes
Spotify
Soundcloud
Google Play
YouTube
The Trading Coach Podcast
Forex trading is Akil Stokes' full-time job, and he also works as a trading instructor, assisting new and struggling consumer traders to achieve market success. Forbes also named him as one of the leaders in trading education.
He has experience in trading and investing, but currency exchange is his area of expertise. Each episode is loaded with helpful information and advice on the trading industry and what it takes to be successful in Forex trading. Listeners aged 18 – 25 will appreciate the advice and no-nonsense approach from this former football coach.
The most valuable skills Akil teaches on the show may have nothing to do with Forex trading. He goes into great detail on real estate and investment properties, as well as how to launch your own trading business and make more decisions in your everyday life that are more empowering to you as an individual.
Akil focuses on psychology, health and fitness, development mentality, personal finance, and other crucial peripheral variables contributing to your success as a trader aside from your technical analysis skills.
Website: Apple Podcasts
Listen On:
Apple Podcasts
Spreaker
Podbean
Player FM
Desire to Trade Podcast
Etienne is a trader who began trading in the Forex market when he was 18. He has an unquenchable desire to trade and founded DesireToTRADE, a blog dedicated to assisting aspiring Forex traders in developing a trading method that works for them and, ultimately, shortening their learning curve. He also hosts the Desire To Trade Podcast, where he interviews successful traders worldwide and gives actionable trading advice to those who want to succeed.
Along with his Desire to trade podcast, he also has daily vlogs and trading courses where he walks his listeners through detailed analyses of economic events and how they impact personal finance. Listeners over the age of 25 will understand the importance of economic events and should listen to this podcast.
Website: Desire To Trade
Listen On:
Apple Podcasts
TuneIn
Pod Paradise
YouTube
Trading with Rayner Podcast
Trading With Rayner provides practical advice to help you improve your trading and beat the forex markets. Whether a novice or a successful trader, you'll discover tried-and-true trading tools, price action principles, and profitable trading strategies.
They also have written several books and provide trading courses to develop Forex trading skills. Any beginner to the Forex market would be the target audience for this podcast.
Website: Trading With Rayner
Listen On:
Apple Podcasts
Spotify
PodTail
YouTube
Trading Nut Podcast
Since 2015, Cam Hawkins has been looking for the top Forex, Futures, Stock, and Cryptocurrency traders to learn what makes them successful. While interviewing these successful Forex traders, he discovered ready-made trading ideas of knowledge and money-making techniques throughout each conversation.
He conducts regular interviews with Forex, Crypto, Stock, and Futures traders. The interviews are accompanied by chart walkthrough videos that explain how the markets function. There are also regular live streams when traders are put to the test in a live or historical market setting.
Listeners, both young and old, will enjoy this fun and exciting podcast. Anyone involved in Forex trading over the age of 25 will enjoy the interviews and stories.
Website: Trading Nut
Listen On:
Apple Podcasts
Podchaser
Podbean
YouTube
Two Blokes Trading Podcast
Ken and Rory discuss their frank opinions and experiences with the financial markets on the Two Blokes trading podcast. They examine all markets, including stocks, cryptocurrency, forex, indices, and commodities, digging into various methods throughout the process.
They also interview some of the world's most successful traders and investors, picking their brains to learn about their unique methods, techniques, and attitude toward stock trading. A more experienced trader, over the age of 35, would enjoy this podcast.
Website: Two Blokes Trading
Listen On:
Apple Podcasts
Spotify
Google Play
IG Trading Podcast
With IG Trading the Markets, users can obtain exclusive insights from analysts and industry professionals on anything from FX to stock trading, allowing you to get more out of the Forex market. IG is the world's largest provider of CFDs and financial spread betting and the largest FX provider in the UK.
They have a trading psychology series that helps break down human psychology and its influence on financial decision-making, common trading and investment errors and how to avoid them, as well as guidance on preventing the unpleasant effects of emotions and moods.
This podcast is great for beginner traders and those who have invested a lot in the Forex markets. They use trading psychology to help traders better understand their emotions during the investment process and how to not let their feelings get in the way of trading.
Website: IG Trading The Markets
Listen On:
Apple Podcasts
Spotify
Google Podcasts
Deezer Podcasts
Always Free Podcast
Jason Graystone is a professional trader and entrepreneur who specializes in online investment and currency trading. He launched his first business when he was 22 years old and has built his empire into multi-million-dollar enterprises since then.
Jason thinks that if you have a healthy perspective and the correct personality attributes, you can apply basic formulae to achieve anything in life. It is because of this approach that he was able to attain total financial independence by the age of 30. Since then, Jason has battled to help others in the realms of money and wealth building.
The goal of this podcast is to give ideas and tactics that will empower listeners to challenge the current quo and think freely, allowing them to create the life they want and be who they want to be.  With over 75,000 community members, this podcast has been voted the best financial empowerment and wealth development podcast. Those over the age of 18 will enjoy this podcast.
Website: Always Free Podcast
Listen On:
Apple Podcasts
SoundCloud
Spotify
Google Podcasts
A Trader's Life Podcast
Nicholas Penrake takes time in his Forex podcasts to interview industry leaders on their trading strategies, how they got started, and how they moved from being broke or breaking even to earning thousands of dollars every week.
He looks for insight on personal development and profitable performance from pro traders while providing traders with insight and strategies to lead to successful trading. Older, more experienced traders will understand the strategies, making this a must-listen for them.
Website: Apple Podcast
Listen On:
Apple Podcasts
Buzzsprout
Listen Notes
FX Talk Podcast
This podcast focuses entirely on the international financial currency market. Three financial market experts, Mathew, Enrique, and Roman, top forecasters at Bloomberg, meet regularly to analyze macroeconomic news and how it may impact global markets. This provides the listener with the knowledge necessary to make informed judgments.
This Forex podcast makes FX trading easy with fund managers who understand the global markets. With their educational platform on their website, this is one of the best trading podcasts to listen to for beginners. Anyone over the age of 18 will enjoy this podcast.
Website: FX Talk
Listen On:
Apple Podcasts
Google Podcasts
Spotify
Motley Fool Money Podcast
Join presenter Chris Hill and a team of Motley Fool investing analysts as they break down the stock market implications for long-term, business-focused investors while covering the day's top business news and financial stories. On weekends, tune in for the best investment lessons you have never had the chance to attend in school and viewpoints from special guests working to influence the future.
The Motley Fool website also has plenty of articles for new stock traders, with practical tips to help them become better traders. Traders with little experience can appreciate the broken-down teachings they provide. Investors between 25 and 35 would get the most out of this podcast.
Website: Motley Fool
Listen On:
Apple Podcasts
Amazon Music
Spotify
Digest and Invest Podcast
Anyone interested in trading or investing will find it fascinating to listen to the most recent financial news presented in an amusing and easy-to-understand way. Hosts Sam and Josh give professional insights and fundamental analysis on trading Forex with a strategy that will help beginners become successful.
This is probably one of the top forex podcasts for beginners, as they don't use complex language. They want to give their listeners the best advice and allow them to become a better trader. This podcast is perfect for anyone starting out, especially the younger investors between the ages of 18 – 25.
Website: Apple Podcasts
Listen On:
Apple Podcasts
Audible
Spotify
Conclusion
Regarding the best trading podcasts, most traders are looking for valuable insights from industry leaders to help them navigate the intense world of Forex trading. The best podcasts for Forex discuss how to trade markets successfully today and give a successful strategy through meaningful and informative content.
A professional forex trader can be a valuable asset to any newcomer, and podcasts featuring interviews with those who have gone through trials and tribulations can benefit those just getting started. The trading world is not for everyone, and first-hand experience is essential for producing the best forex podcasts.
Just like in any competition, a successful trader should have an informed trading coach in their corner. Together, they can come up with a successful trading strategy for the forex market.