14 Best Forex Trading News Sites in 2023
We trust the news to give us the run-down of what is happening worldwide. Having a specialized news site for the Forex market should be no exception. When news happens, it's best to be informed by the best Forex news sites.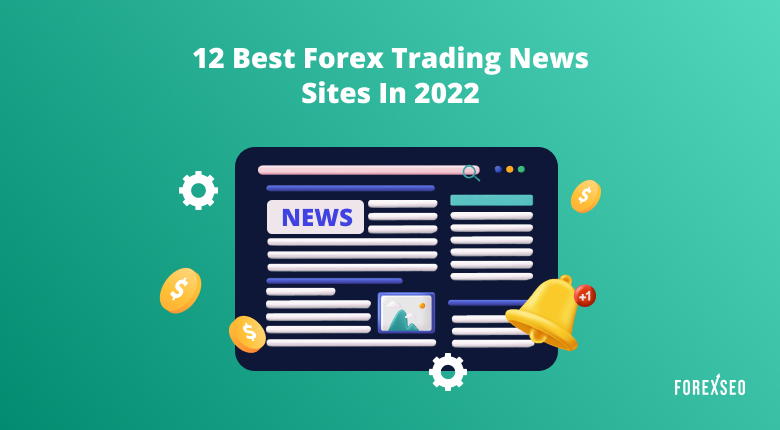 Forex news sites should inform traders of the latest financial news about Forex trading, markets, and tools. Foreign exchange markets are highly volatile and can change at a moment's notice. Investors want up-to-the-minute information to make informed decisions about their investment objectives.
The best Forex news sites are unbiased and provide real-time data. The site covers economic events impacting Forex trading and publishes articles about personal finance, news coverage, and risks involved. The independent advice comes from technical analysis and Forex traders.
Finding Forex news sites that are reliable and trustworthy can be challenging, so do some research to find the Forex website that best speaks to you.
Forex Factory
The Forex Factory, in contrast to the majority of Forex news websites, does not develop its own stories; instead, it compiles Forex news from various sources. This will save you time since you won't have to follow the Forex live news on just one website, giving you a better idea of how the foreign exchange market is performing.
In addition, of all the websites that cover Forex news, Forex Factory's forum is widely considered to be the most informative and active due to the sheer volume of posts it receives.
You can copy the trades that other people are doing or evaluate how well individual Forex traders are performing compared to the FX market, thanks to one of their distinctive features: posting the transactions that other people make.
| | |
| --- | --- |
| Monthly Traffic | 1.7M |
| Brand Volume | 86% |
| Founded | 2004 |
| Revenue | $3.4M |
Action Forex
Action Forex is a top Forex news site to follow for major and minor currency pairs.
Because their weekly prediction is based on technical research, Action Forex is a wonderful option for traders interested in acquiring both a fundamental and technical comprehension of the state of the currency market.
Forex brokers and financial organizations write articles and blogs. They educate traders on the most recent Forex news and give insight into the many trading instruments available for Forex trading.
| | |
| --- | --- |
| Monthly Traffic | 67K |
| Brand Volume | 1% |
| Founded | 2004 |
| Revenue | $10M-$15M |
FX Empire
In addition to instructive articles about foreign currency trading, FX Empire provides information on other financial topics such as commodities, indices, equities, and stock exchanges.
Regular content is produced by the forecasting department, and it is possible to filter that content to display only the issues that are of interest to you.
| | |
| --- | --- |
| Monthly Traffic | 1.3M |
| Brand Volume | 2% |
| Founded | 2011 |
| Revenue | $4.5M |
BabyPips
One of the most well-known Forex educators is BabyPips. Their material is well-known for being educational and, on occasion, downright amusing.
Even though the majority of their content is centered on the United States Dollar, they offer information on foreign exchange and are considered to be one of the best websites for researching subjects associated with currencies. They have an emphasis on fundamental analysis, which means that traders with more expertise should search elsewhere for technical analysis.
On Mondays, they release their weekly forecasts, and on Fridays, they release their weekly evaluation of the major currencies.
| | |
| --- | --- |
| Monthly Traffic | 421.2K |
| Brand Volume | 16% |
| Founded | 2005 |
| Revenue | $5.9M |
Forexlive
Forexlive is one of the leading Forex news websites, publishing many stories daily and covering many issues.
They strongly recommend that you supplement what you learn in the market news with your own independent market research. They work hard to lead their readers in the proper direction so that they may make an educated choice.
Not only that, but they provide new traders with instructions on the Forex market and excellent technical analysis, which is fantastic for traders that focus on technical analysis.
| | |
| --- | --- |
| Monthly Traffic | 503.5K |
| Brand Volume | 2% |
| Founded | 2008 |
| Revenue | $4.6M |
FinViz
This research platform offers both powerful technical tools and fundamental analysis tools to traders and investors. This Forex news website provides comprehensive stock market analysis on a single platform for user convenience. The trader can immediately evaluate the overall performance and condition of the market.
Their news section is separated into two columns: the first column contains standard news providers, while the second column has trade blogs. Traders won't miss out on any significant market news thanks to the Forex news area, which is kept up to date automatically.
| | |
| --- | --- |
| Monthly Traffic | 1.1M |
| Brand Volume | 47.5% |
| Founded | 2007 |
| Revenue | $5.7M |
Investing.com
In addition to the foreign exchange market, Investing.com provides coverage of a variety of other financial markets, such as stocks, commodities, and cryptocurrencies.
They provide live charts, which point out particular occurrences that may have affected movements and trends to keep an eye out for. Additionally, their articles are arranged into other categories, such as political and economic.
Moving averages and pivot points make up the bulk of their analysis; nonetheless, they maintain a comprehensive website that provides a summary of major and minor pairs utilizing various Forex tools.
| | |
| --- | --- |
| Monthly Traffic | 5.9M |
| Brand Volume | 6.6% |
| Founded | 2007 |
| Revenue | $32.1M |
DailyFX
There is a solid reason why DailyFX is considered to be one of the most well-known Forex news websites. They solely cover news relating to Forex trading, and they have a crew of professional individuals who are specialists in the Forex markets that give frequent updates.
They produce condensed pieces that are always supplemented by in-depth analyses of a technical nature. Likewise, they present market news and trends, as well as trading strategies for bearish traders and bullish traders, respectively.
| | |
| --- | --- |
| Monthly Traffic | 2M |
| Brand Volume | 5.4% |
| Founded | 2002 |
| Revenue | $3.9M |
EARNForex
EARNForex publishes articles, mostly on individual currencies. You can filter news by currency and search their archives for past stories. Early morning articles concentrate on anticipated market news, and evening articles comment on that day's happenings.
Their articles are concise and to the point, including a wealth of information. They also publish news on topics other than currency pairs.
They provide a complete view of how a currency performs and prepare you for prospective adjustments the next day if similar patterns persist.
| | |
| --- | --- |
| Monthly Traffic | 33.6K |
| Brand Volume | 5.4% |
| Founded | 2005 |
| Revenue | $2M |
FXStreet
FXStreet publishes frequently every day and updates the website whenever there is something new, so you don't have to keep refreshing the page.
They have articles produced by their staff, Forex brokers, and financial institutions. They cover many factors affecting a country's economy, rather than only top Forex news.
Visitors can filter articles and analyses by foreign currency and choose significant contemporary events such as Brexit and the US-China trade war.
| | |
| --- | --- |
| Monthly Traffic | 1.2M |
| Brand Volume | 3% |
| Founded | 2000 |
| Revenue | $16.7M |
Bloomberg
You can keep track of the movements of different currency pairings and the news that might potentially have an impact on the market, thanks to Bloomberg. While you are trading, you will be able to listen to either the financial markets radio or the live markets television programming that they offer.
| | |
| --- | --- |
| Monthly Traffic | 25.9M |
| Brand Volume | 7.4% |
| Founded | 1993 |
| Revenue | $12.2B |
MarketPulse
MarketPulse is the top Forex news, commodities, and global market analysis website. They provide timely and relevant information on technical analysis, macroeconomic trends, and international events that will immediately influence Forex markets.
The website offers informative commentary and full-time coverage of the world's leading markets.
| | |
| --- | --- |
| Monthly Traffic | 125.8K |
| Brand Volume | 1% |
| Founded | 2006 |
| Revenue | $18.8M |
TradingView
If you're seeking a perfect resource with financial news and trading-related info, TradingView is a great one to consider. Designed with a feature-rich interface, it delivers a Bloomberg-like experience to non-professional traders. Besides real-time trading news updates, it boasts an economic calendar, top-notch charts, and a big trading community sharing trade ideas, strategies, and more.
| | |
| --- | --- |
| Monthly Traffic | 32.2M |
| Brand Volume | 46.7% |
| Founded | 2011 |
| Revenue | $144.6M |
Finance Magnates
Finance Magnates finishes this list of top Forex news sites as it features the latest news from the Forex world and the entire trading space. Here, you can also find informative research reports on prominent trends and experiences in the industry. Furthermore, the company hosts international conferences and expos focused on the electronic trading industry.
| | |
| --- | --- |
| Monthly Traffic | 55K |
| Brand Volume | 1.5% |
| Founded | 2009 |
| Revenue | $5.0M |
Best Forex News Websites by Traffic
Now, let's sort out all the outlined FX news sites according to the number of monthly visits that they receive from organic search.
| | |
| --- | --- |
| Site | Organic Traffic |
| TradingView | 32.2M |
| Bloomberg | 25.9M |
| Investing.com | 5.9M |
| DailyFX | 2M |
| Forex Factory | 1.7M |
| FX Empire | 1.3M |
| FXStreet | 1.2M |
| FinViz | 1.1M |
| Forexlive | 503.5K |
| BabyPips | 421.2K |
| MarketPulse | 125.8K |
| Action Forex | 67K |
| Finance Magnates | 55K |
| EARNForex | 33.6K |
Final Thoughts
With the abundance of Forex websites, it's best to find unbiased Forex news sites and feature the top Forex news available. Forex trading requires a lot of research on the top Forex news sites to establish good trading skills and confidence.
News websites should have more than just business news. They should publish articles and tips on becoming a successful Forex trader, using trading psychology to help investors navigate the Forex world.
A Forex trader should know what patterns to look for from the market analysis and make the right moves based on the economic calendar. Proper education and learning materials should be available for Forex Trading newbies and comprehensive Forex brokers reviews so investors can be informed about trading brokerages.
Experienced and new traders can benefit tremendously from Forex news sites. They can start a Forex trading business and increase their invested capital by reading the weekly forecasts.