Top Strategies for Forex Trading including SEO
Are you looking to boost your organic traffic in 2023? One thing that has not changed is that traders are still trying to learn forex trading strategies in order to increase their profitability. This is an opportunity for your website to be a thought leader and provide this information.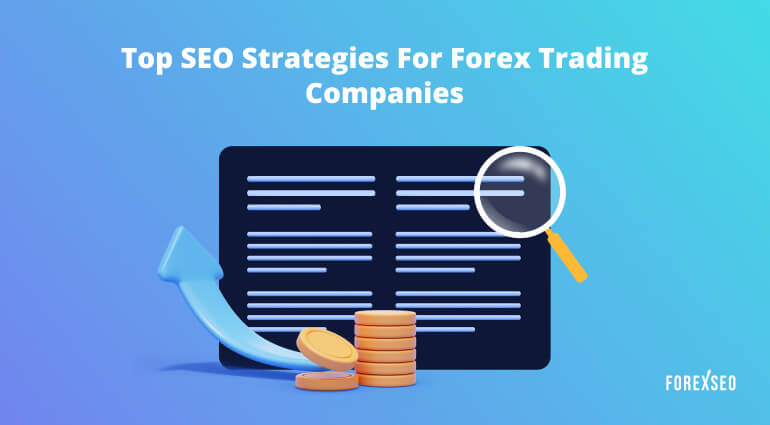 But there is still some confusion on the best strategies to cover or how you can optimize your content in order for it to rank well. This guide walks you through some top forex trading strategies you can use to update the forex trading strategy section of your website. And if you don't have one, now is the time to create one by following our SEO tips.
Unlocking the Secrets of Successful Forex Trading Strategies with SEO
Education is a big part of any major forex trading website. And one of the most important topics that is often discussed is strategies in forex trading.
Many beginner and intermediate forex traders, when they start a forex business, recognize that they need the right education in order to understand the markets. While there are thousands of sources where traders can learn the basics, a forex broker that provides some guidance has a better chance of improving their trading experience and fostering loyalty. 
Covering forex trading strategies is also instrumental for SEO. Your pages can rank in search engine results, giving you the opportunity to attract organic traffic. 
Just picking a forex strategy randomly and writing about it is not the best way to go. For your strategy pages to have a better chance of ranking, it's important to incorporate a bit of SEO by performing keyword research to know what people are searching for. 
You also need to pay attention to forex strategies trading that are gaining traction due to increased discussions about them from forex market influencers on social media, YouTube, forums, and other places. The pages will need to accumulate backlinks to increase their trustworthiness in Google's eyes. A question that you may be asking yourself at this point is, "Which forex strategies should I care about?" as there are hundreds out there. 
Overview of Forex Trading Strategies
Let's start with an overview of the entire topic. And at the highest level, there are three fundamental ways to analyze the market: 
Technical analysis

: It revolves around the use of charting tools and technical indicators to identify patterns from historical price action in order to make predictions on future movements. 

Fundamental analysis

: Strategies are based on trying to anticipate how the markets may behave as a result of economical, social, and political factors. Discussions of how to use the economic calendar will be important, and you can even create a free economic calendar that anyone can use around the web. It may turn out to be a link magnet. 

Sentiment analysis

: It's an attempt to deduce how the majority of traders feel about a particular currency pair or market, and whether they are more inclined to sell or buy based on their emotions, mood, and risk tolerance.  
As you offer forex trading strategy education, disclose clearly to forex traders that they need to develop their own successful forex trading strategy based on their individual goals, risk tolerance, or trading styles. Trading carries risks, and strategies don't guarantee that you will make profits just by following the trading advice. 
Proven Forex Trading Strategies to Help You Profit:
Now, let's look at the best strategies for forex trading. We are using the term "proven" to showcase techniques that many traders and sources recommend as effective.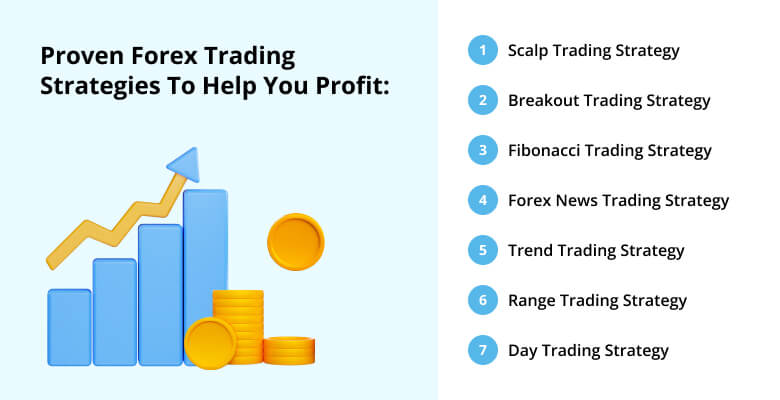 The list of forex trading strategies may be subject to change as some strategies grow more popular or lose favor. But generally, most discussions are currently taking place around these strategies.  
1. Scalp Trading Strategy
It's more of a trading style, as it entails making short-duration trades with positions open for no more than a few minutes. As an indication of its popularity, you can see the following keyword lists provided by Ahrefs. Scalp trading has a volume of 1.6K and a fairly medium keyword difficulty. 
2. Breakout Trading Strategy (pop-and-stop, drop-and-stop, etc.) 
The breakout trading forex strategy is focused on helping the forex trader identify the best time to enter a trade before the price breaks out of a range. You can cover several methods under the breakout strategy, such as the pop and stop trade and the drop and stop trade. 
3. Fibonacci Trading Strategy 
The strategies are based on Fibonacci levels, which are horizontal support and resistance levels. Some popular Fibonacci techniques include 
Overlapping Fibonacci trade

Daily Fibonacci pivot table

Fibonacci Retracement + MACD
4. Forex News Trading Strategy
The strategies revolve around how best to trade forex before and after a news release. Forex trading news sites could help. 
5. Trend Trading Strategy
In trend trading strategy, Using technical analysis methods like Moving Averages and the RSI, the trader determines the prevailing trend in the market and can either choose to follow the trend or counteract it. 
6. Range Trading Strategy 
At times, the market may not have a clearly defined trend due to mild fluctuations in price action. Still, some traders find opportunities in this ranging market by mostly buying at the support trendline and selling when the price hits the resistance trendline as the range limits how much the price can rise or fall. 
7. Day Trading Strategy
A large percentage of retail traders fall under the forex day trading umbrella, meaning that they open and close trades within the same trading day. The topic is as popular as scalp trading. Position trading focuses on longer timelines.
The Role of SEO in Forex Trading Strategies
So what's the importance of search engine optimization if you decide to make forex trading strategies part of your content creation and marketing efforts? It's only through on-page and off-page SEO optimization that you can ensure that the content ranks well in search engine results. Some of the top SEO techniques that you'll need to implement include: 
Keyword research: It reveals the best keywords to target based on search volume, keyword difficulty, and relevance. Here you can find the best Forex keywords to rank for
Content marketing

: You'll need to create valuable content that solves the user's problems and distribute it by leveraging more channels like social media marketing.

Link building

: Building links to your trading strategy pages shows Google that the information is relevant and helpful, and it's more likely to be shown to searchers because of the trust it commands.  

Local SEO: You can optimize the reach of your content by implementing local SEO techniques like focusing on localized keywords, translating content for different Geo's, or performing local link building. 
By implementing these SEO techniques, you can achieve better rankings and visibility. As the number of visitors to your website goes up, you can increase conversions by using lead capture forms, creating compelling calls to action, and making compelling offers. 
Top Forex Trading Strategies That Work and How to Improve Them with SEO
Choosing to focus on some SEO strategies can open more opportunities to enhance your SEO than just publishing a couple of articles describing how the trading strategy works. Some of the best strategies for forex trading actually pack quite a punch! Let's see some of them.
For the news trading strategy, which involves trading before and after news comes out, traders need to know how the forex markets are doing right now. So, there's an opportunity to provide news content, and some top trading platforms have responded by creating a news section as part of their content trading strategy. 
The daytime best forex trading strategy can also help with SEO optimization for your website. For instance, day traders must be aware of the forex market hours, which denote the times at which different markets around the world will open and close.
You can analyze other successful forex trading strategies looking for opportunities to improve your site's SEO. For instance, with trend trading and Fibonacci strategies, you can develop content focusing on analysis and describing individual techniques in depth, as there is still a lot to cover.
With range and breakout trading, traders will heavily rely on indicators. There is an opportunity to discuss the indicators they will need to use, such as the Relative Strength Index (RSI), stochastics, Bollinger Bands, and the MACD. The use of stop losses will warrant a mention, as traders will need to know how to effectively track points of resistance.
How to Build a Forex Trading Strategy with SEO in Mind
Let's look at some general SEO pointers you can follow as you build your best forex trading strategy pages:  
1. Keep in Mind Google's Helpful Content Update
You need to avoid creating content for search engines first. Instead, anyone who interacts with the content should leave feeling that it helped them achieve their goal and that they had a satisfying experience. You should clearly demonstrate expertise, and it can help if the content is written or endorsed by a trading expert. 
2. Build Topical Authority
Building topical authority means that you establish your website as the go-to place for information on the best forex trading strategies. Your content will need to be the most authoritative on the subject. The hope is that with Google placing more focus on quality content, your website will have a better chance of ranking as it will be providing the most accurate, in-depth, and relevant content on all forex trading strategies. 
A useful tool that you can use to build topical authority is the pillar cluster model. The pillar pages will be the content hub around a main discussion point, such as technical analysis. 
3. Improve the Internal Linking 
Internal linking is how you connect one page to another. It helps distribute page authority and ranking power across your pages. Optimizing your anchor text can provide more context to Google about the topic of each page, improving its relevance for a certain topic.
Proper linking also helps users navigate from one page to another, looking for answers to their questions or exploring a topic in depth. For instance, they can flow from the Homepage to Forex Strategies> Technical Analysis>Indicators>Trend Indicators>Moving Averages. 
4. Get Help Building Backlinks 
Backlinks are still relevant for SEO. And by capitalizing on the forex trading best strategies, there is an avenue to build links through guest posting on niche-related websites or earning links naturally. 
Maximizing Your Forex Trading Strategies with Local SEO
With increased and fierce competition for SEO in the forex niche, you need to look into other ways of maximizing the reach of your content. And in fact, there is still an opportunity in local SEO, where you optimize your business to be more visible in local search results.
Characteristically, local traffic is highly qualified and has a transactional intent, –meaning that searchers are more willing to spend money or sign up for SEO. Winning more of this traffic will increase the number of Forex leads and, as a result, sales, boost your awareness, and increase your reach in a given market. 
How can you optimize for local SEO to gain its benefits?  
Create local-specific content:

You can translate content on the best

trading strategies for forex

into different languages to take advantage of content gaps. For instance, after publishing a guide in English, you can choose to translate it into other commonly spoken languages like Filipino or Hindi if you have users from these geographic locations. 

Optimize your Google Business Profile page

: If you have a GMB listing, take advantage of the numerous ways available to you to maximize the reach of your content such as creating posts, collecting local reviews, and providing accurate NAP info.     

Get listed in local directories

: Citations of your name, address, or phone number in trustworthy directories and local websites send trust signals to Google that indeed your business is legit and operates in a certain locale. 

Build local links

: Links from websites in a specific area act like an endorsement of your business and increase your relevance to that particular region, too. 
Using Technical Analysis to Improve Forex Trading Strategies with SEO
Technical analysis is still a popular way that many forex traders analyze markets. And you may have guides on technical analysis on your website.
But there is actually more room to think outside the box and incorporate SEO services and techniques to elevate how traders analyze charts, identify key price levels, and develop trading signals. How will it work? Well, you can start by implementing the following SEO techniques: 
Fill content gaps

by identifying topics and keywords that you're not sufficiently covering in your existing content. 

Learn from competitors about the major talking points to cover and the level of topical depth you need to achieve. 
Optimize internal linking

to ensure that users can easily find all the information you have on a given forex technical trading strategy.  

Update old content

to reflect newly discovered knowledge and to get rid of strategies that may have gone obsolete over time. 

Go after low-difficult topics

such as more advanced forex trading strategies that you may have previously ignored in favor of general topics. 

Improve the user experience

by having a better page design, clear font, and interactive media content like videos. 

Write for humans first

by editing previous content and making it more engaging and actionable if it was previously written to appease search engines. 
Measuring the Success of Forex Trading Strategies with SEO Metrics
Once you start implementing trading strategies for forex on your website, there will be a need to measure the results and performance. You can keep track of key SEO metrics to know where you stand, including 
Organic website traffic

: Ideally, your website traffic should increase over time as you draw in more visitors from the trading strategy pages;

Search engine rankings:

Tracking this metric tells you if you're ranking for your target keywords. If you're not, it only means that you may need to optimize the content, achieve more content depth, or build adequate links.

Conversion rates:

Ultimately, the content should both educate the readers and further your business goals. Tracking conversions on your pages can help determine if more people are signing up, and you can take corrective action by having better CTAs, placing your offers more prominently, reducing friction, and improving the UX. 

Number of referring domains

: If the content is relevant and authoritative, you should start building links naturally to complement your other link-building efforts.
There are many more metrics you can keep track of to measure your success. We recommend Google Analytics for more insight into your acquisition channels, audience attributes, and user behavior (unique page views, sessions, bounce rate, average dwell time, etc.). 
  Conclusion: Forex Market & SEO
Focusing on the best forex trading strategies can enhance the experience you deliver to traders on your website. The subject represents a goldmine for your SEO efforts, as there is a lot of interest in advanced forex trading strategies that work. Some of the strategies we've recommended for websites have included scalp, day, range, breakout, Fibonacci, and news trading. 
You'll need to create effective content that's original and engaging for people first. Using SEO techniques like keyword research, local SEO promotion, or link-building will be fundamental for better rankings.
With so much to do, working with a SEO company specializing in forex website promotion can help define how you approach forex trading strategies, giving you the insight to choose the right topics, select competitive keywords, and undertake proper promotion. 
With ForexSEO, you have a reliable partner on your side. We've worked with over 30+ brands in the forex niche in different aspects, gaining vital experience we can leverage to take your website to the top.