Forex Trading as a Business: Fresh Ideas for Your Forex Business
Forex trading is arguably one of the biggest financial markets globally. In forex trading as a business, it is crucial to understand how forex trading works and what you need to do to succeed. This guide will help you understand all the ins and outs of forex trading, explained in layman's terms.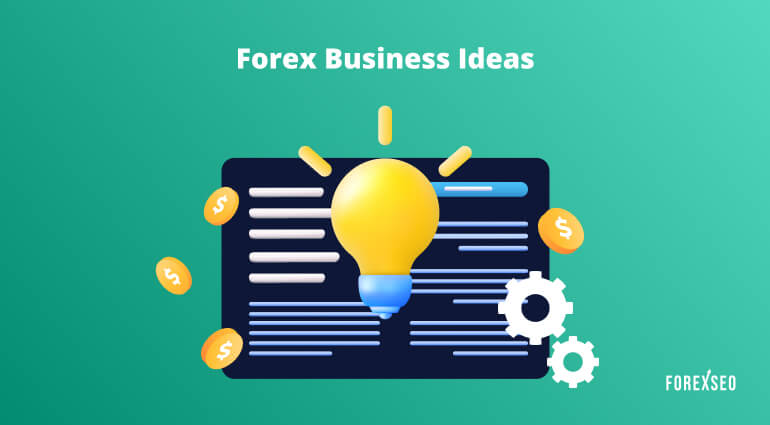 Forex trading is the buzzword in today's evolving money markets. It includes everything to do with buying, selling, and exchanging currencies at current prices or at prices that have already been set. When you trade business forex, the major factor is that you will need a website to be successful. Through it, you can demonstrate your experience and expertise to traders alike.
Depending on who you want to reach, you can change the website to meet the needs of traders while adding value. You can use it to sell automated trading systems to traders. In the same way, you can decide to analyze the forex markets on your website and send traders signals in real time. How hard is that?
The Basics of Forex Trading Business
As aforementioned, online forex trading, also known as FX, is one of the largest financial markets in the world. It represents a global network of currency traders and brokers who buy and sell other currencies 24 hours a day to make money on price movements. That is why you need a trading strategy to have significant profits.
A business forex trade is executed when a trader buys one foreign currency against another, such as the US dollar versus the euro or British pound. Forex traders can make money by predicting if and how much their trading currencies will go up or down against another foreign currency.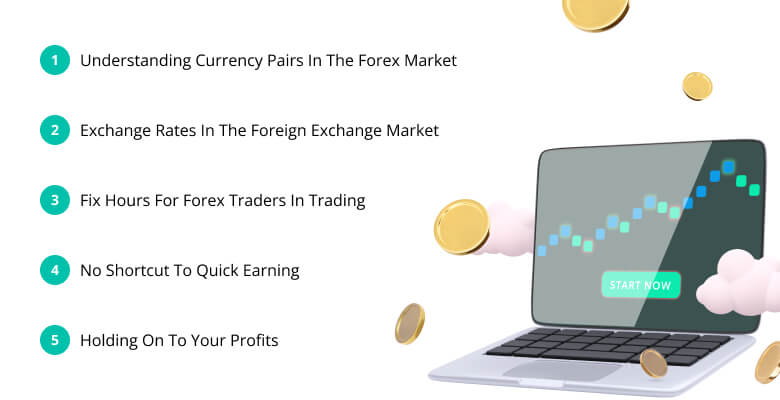 The biggest benefit of the forex trading business is that you can spread out your investments by making money from more than one currency pair. For example, if you buy USD/CHF (US Dollar vs. Swiss Franc) and let's say it goes up by 1%, your profit would be 1%.
1. Understanding Currency Pairs in the Forex Market
Currency trading pairs are made up of two other currencies traded against each other. For example, USD/JPY is the US dollar against the Japanese yen in foreign exchange. EUR/GBP is the euro against the British pound sterling (or vice versa).
Most of the time, one currency is called the base currency, and the other is called the quoted currency. The base currency in central banks is always on top, while the counter currency prices go below it on charts in the global economy.
2. Exchange Rates in the Foreign Exchange Market
A currency's exchange rate is its value in terms of another currency. One dollar is worth seven euros, for example.
In business forex, the market forces of supply and demand determine foreign exchange rates. If there is a lot of demand to sell currencies, such as the US dollar, their value will rise because people want to buy them. If there is not much demand for a particular currency, its value will decrease. It may even become worthless if there is no demand at all.
3. Fix Hours for Forex Traders in Trading
There are fixed hours when trading is at its peak, which is advisable for all traders. In essence, most successful traders love trading from 8 a.m. to noon. As a result, they can overlap the New York and London stock exchanges. Overall, trading is open 24 hours a day, from Sunday to 4 p.m. on Friday.
4. No Shortcut to Quick Earning
You will have to start slowly and gain the necessary experience before investing lump sums. You should have financial goals in forex trading as a business that align with your financial constraints. This way, your risk management will be high-quality and recommendable.
5. Holding on to Your Profits
You should always avoid greed and maintain discipline when trading. As such, you can avoid blowing your capital and gain profits. No matter what, you should always stay true to your trading plan.
How to Start Forex Trading from Home?
As a forex trader, your two biggest assets are time and money. The more time you spend learning about the markets and analyzing price action, the better off you'll be. The more capital you have to trade with, the better off you will be.
If you only have an hour or two a day to work on trading, it might not be possible for you to make a lot of money. The same is also true if your investment capital is low. You cannot expect to reap huge returns when your investment capital is as low as $100.
1. Launch the Website
Now that you have gained experience with online forex trading, why not help others do the same? As a forex market trader, a forex trader website will help you track what you've learned from these volatile markets and diversify your portfolio in the forex trading business.
Remember that you are trading forex as a business for profit. As such, you can create forex-related products to aid busy or struggling traders. In the end, an automated trading system will help traders who are already very busy analyze markets and find new ones.
2. Use Different Marketing Channels for Your Website
Remember that you are trading forex as a business for profit. So, you can make products for forex market traders like you that are similar to a forex market in terms of consistency, time management, or risk management. By doing this, you will enjoy the best of both worlds of trading business.
However, your website will need exceptional marketing to reach this point. Here are a few marketing tools you can use to make your website more well-known.
Since the dawn of the first search engines, websites have implemented different strategies to propel their pages to the top of the search results. The strategies have included using keywords, publishing blog content, optimizing web pages for performance, and more. Many have tried to game the system with black-hat SEO techniques like buying links, only to get penalized.
SEO is still a consistent source of traffic, delivering long-term benefits. But ever-changing ranking algorithms and a ballooning list of core ranking factors have made SEO increasingly complex. Nowadays, it can require teams consisting of SEO specialists, content writers, content planners, and project managers to get the job done quickly and effectively.
Working with an agency is highly recommended if you have an adequate marketing budget. Selecting the most suitable one is a challenging task. It's best to consider an agency with a strong focus on the Forex niche. Such a team will have a niche-specific experience you can't find elsewhere. ForexSEO can help you rank higher in search engines like Google and Bing, which means maximum traffic to your site. As such, you can convert more prospects into customers.
SERM stands for "Search Engine Reputation Management." It's a crucial service for forex websites, where trust is integral. Your reputation is kept in check by publishing content that seeks to address claims that your service may be a scam, and by monitoring and responding to reviews. This is one of the best services provided at ForexSEO. When you use the Forex SERM services, your reputation is monitored by seasoned experts employing modern tools to keep track of mentions. They find ways to promote favorable news about your site and build you up as an authoritative and honest provider of advice or trading services.
This involves paying money for your website to appear at the top of search engine results when someone searches for certain keywords related to what you do. For example, if someone is searching for "how to trade forex," they will see ads at the top of their search results that lead back to your site offering a trading course or e-book. However, SEO is the best method for marketing your website. It is gradual and will often result in massive sales and organic leads when done effectively. A PPC campaign will only attract leads for a short period of time.
You can also send press releases to journalists and bloggers in your niche on high-authority sites like Business Insider and Forbes to aid in marketing your business forex experience. However, this won't beat SEO, which is a slow but sure way of gaining authority in the online space. Press releases will only target a limited number of individuals, while SEO will target everyone. Similarly, everyone trusts Google. As such, if your site appears at the top of search results, you can rest assured of garnering immense authority across your niche in the forex markets.
3. Build a Strong Team
Doing everything yourself is time-consuming, tiring, and inhibits growth. Surrounding yourself with experts can allow you to achieve your goals faster. For instance, you should have a strong team of marketing specialists to promote your website. You can use them to run ads or do campaigns on different marketing avenues. This way, you will have your things running even when trading.
4. Do Your Forex Job as Good as Possible
Then finally, take forex as a business. Do it with passion as you let your team handle all the issues arising from the website or forex trading platform.
Use the Full Potential of Marketing
Marketing is about finding ways to increase touchpoints and engagements with potential clients. With SEO, you can offer valuable content on different topics in online forex trading, as new traders are constantly looking for tips. There is room for paid marketing too.
You may need a reliable guide and partner, as handling SEO marketing requires time and know-how. It can distract you from your core set of tasks and your mission of growing your website. ForexSEO is a reliable partner that can help you through all the steps, from doing the initial analysis to making content that brings in qualified Forex leads and more traffic.
How Can ForexSEO Help You in Foreign Trade?
ForexSEO can assist you if you are looking for a professional to handle your SEO services in business forex. We are a team of specialists with vast experience in SEO for forex and in marketing. Our experts work hard to help you make more money by doing things like search engine optimization for forex brokers, building links, and making content for foreign trade.
We also use a high-tech system to keep track of how we're doing on every project we're given and closely watch all the activities that go along with it. This is why we can provide accurate reports and give you detailed insights into how well or poorly things are going at any given time.
To Sum up
Summing it all up, if you're looking to start a Forex business, one of the most popular routes is creating a website. You monetize it by selling courses, promoting affiliate links, or reselling other paid products. Doing SEO makes sense as you invest in it once, but the benefits last longer as a piece of content can rank well for months or even years if it's relevant, trusted, and updated.