How to Build a Forex Website: 5 Simple Steps
Starting a Forex website can be a great way to share your trading knowledge and connect with other Forex traders. However, building a website can seem daunting, especially if you're new to the process. In this guide, we'll break down the process into 5 simple steps to help you get started. From registering your domain to launching your site, we'll take you through the guide on how to build a forex trading platform.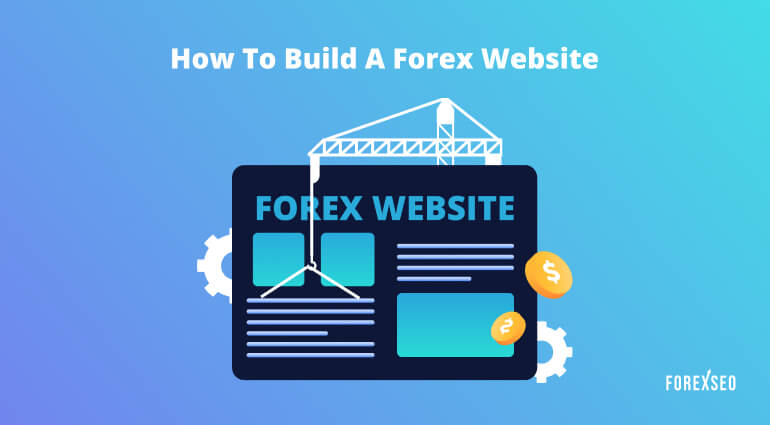 Whether you're a seasoned trader or just starting out, this guide will provide you with the tools you need to create a website that stands out in the Forex community. So, let's get started!
How to Develop Forex Trading Platform
Step 1: Research and Plan
Wondering how to build a forex brokerage platform and where to start? Before commencing with the website's development, it is important to research the market and plan out the website's design, content, and functionality. This step is crucial in order to create a website that meets the needs of your target audience and stands out in the competitive forex market.
During the research phase, you should gather information on your target audience, including their demographics, interests, and pain points. This will help you to understand what type of content and functionality will be most valuable to them.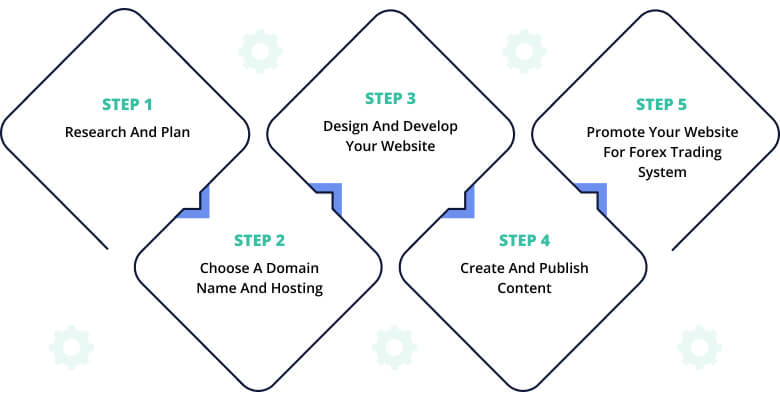 When you think about how to build a Forex website, you should also research the competition to see what other Forex websites are offering and identify areas where you can differentiate yourself. This could include unique features, user-friendly design, or specialized content.
Once you have completed your research, you should create a detailed plan for your website, including the overall design and layout, content strategy, and list of features. This plan will serve as a roadmap for how to build a forex trading platform, as well as the development process, and will help to ensure that your website is aligned with your business goals.
Step 2: Choose a Domain Name and Hosting
Now that you have planned the structure of your business or website to trade, choose a domain name. It's what people use to find you online, so it's important to do some research before choosing one.
You can consider a domain that incorporates your business name or something else that relates to your business; you may also want to choose something more general to make it easier for people who don't know much about your business to find it on the internet.
A domain name should be:
Short (1 or 2 words)
Easy to spell and remember
Not be similar to other domain names. This will prevent other webmasters from registering your preferred domain names if you decide to change them later.
There are a variety of popular extensions you can use with your domain name, depending on your target market. In essence, you can use any of the following domain extensions: .com, .org, .net, and a variety of others. It is, therefore, up to you to decide what is best based on your business's money and preferences.
Once you've registered your domain name, you will need to sign up for web hosting. This is basically where your website's data and files will be stored.
Consider choosing a web host that avails advanced security features in their core hosting package instead of only providing them as add-ons. That means even with a modest hosting budget your site remains protected from hacks.
Step 3: Design and Develop Your Website
With your domain name and hosting in place, you can now begin designing and developing your website. The design of your website should be visually appealing and user-friendly, with clear navigation and layout.
It should reflect your brand and the content that you plan to publish. We recommend using WordPress as a CMS platform, as it is very easy to use, has a large community of developers and designers who can help you and is SEO-friendly.
Building web pages on WordPress is fairly straightforward, thanks to the broad range of on-page builder tools that allow you to drag and drop different elements to create custom pages. You can install free and paid Forex-related themes and edit them to your liking. WordPress also has an extensive library of plugins that fulfill many functions, from speeding up your pages to providing feedback forms.
Working with WordPress and other CMS builders doesn't eliminate the need to work with professionals to design the layout, write content, take professional photos, and more. Yes, the tools are simple to use. But if you need professional results, seeking guidance can make a big difference.
If the site is complex and requires custom features like tools, you can undertake a full development process. The development team will evaluate your needs, select a development language, design the tech stack, build the user interface & back-end, test the features, among other tasks. Outsourcing the work to a trusted team with prior experience building similar sites can guarantee a smooth development process that saves you money.
Step 4: Create and Publish Content
You have successfully designed and developed your website. Now, what's next? Create content for your website. You need to write about your own forex trading system and its benefits to attract more people.
Here are some tips to help you create and publish content on your website:
Create a blog on your site; this will help you write articles about different aspects of the market. The blog can also be used to answer common questions that people may have about the forex exchange market or any other related topic.
Write reviews on brokers and platforms in the cryptocurrency trading market; by doing so, you will be able to attract more visitors to your website, as they will find it useful when comparing different forex trading platforms or brokers before making a decision.
Add videos related to the market of traders; videos have become one of the most popular content shared online today. They allow users to get information quickly without reading through text or looking at pictures all day long!
So add some videos on your site explaining how the certain currency pairs trading system works or how to manage an operating and trading fund. This makes it easier for users to understand the dynamics.
Step 5: Promote Your Website for Forex Trading System
Adding content alone is not enough to push your forex website high enough. As such, you will need to promote your website on various channels.
There are several ways in which you can promote your website, and these include the following:
Social media – Social media has become an important part of any business's needs, especially with websites. You can use social media to spread the word about your website and get people interested. However, ensure that you do not spam people or overdo it, as this could lead to people ignoring or unfollowing your page.
Paid advertising – Paid advertising is another great way of promoting your website. Many platforms, such as Google Ads, allow you to target users based on their location, demographics, and interests. You can specifically target potential customers for your products or services through paid ads on these platforms.
How to Optimize for SEO?
SEO is broad; you need to optimize various website features while tracking performance. In essence, you can start with the following:
1. Technical Optimization
Technical optimization is a must for all websites. It usually involves various aspects like:
Robots.txt is a text file that tells search engines and web crawlers how to access, index, and follow links on your website. It is a tool that you can use to block or allow access to specific pages and directories on your site.
The HTML structure of your website will play a key role in determining its engines. Use appropriate H1 and H2 tags so that the content is easily readable by humans and search engine bots alike. The more readable your content is, the better your chances are of ranking higher in SERPs.
Under "technical optimization," you can also check for website speeds. A faster-loading website will always rank higher in SERP results.
2. On-Page Optimization
TDH: Title, Description, and Headline Optimization.
The title tag is the first thing visitors see when visiting your site. You should put your most important keywords in this tag, but do not overdo it. If you need to know what keywords to use, look at the Google Keyword Planner tool. It's free and easy to use.
This is very important because it's one of the factors that Google uses to determine whether a page is relevant. You should make sure that there is no duplicate content on your site.
So if you have more than one page with similar content, consider merging them into one page with more information about that topic.
As mentioned above, keywords are extremely important when optimizing your site for SEO. You need to know what phrases people are searching for so you can include them in titles or text content as often as possible. Also, do not forget about Forex link building; it is also important for SEO.
How Can ForexSEO Help You?
We are a data-driven company with research analysts, software developers, and marketers who have worked in Forex SEO for more than six years and know what they are doing. Our team is committed to providing our clients with up-to-date intelligence on the latest trends in market research on volatility and customer behavior.
We are result-oriented and provide our clients with a quantifiable return on investment (ROI). Our systematic approach, based on comprehensive customer segmentation, targeted marketing, and multi-channel campaigns, ensures we achieve measurable ROI for our clients. Read more here in the article.
To Sum Up
To set yourself apart from the competition, you must know how to build a forex website. And this starts by understanding your core target audience, their needs, and challenges. While you can DIY a website with premade WordPress themes, engaging with a professional is still recommended. You can get help selecting keywords, writing copy, tweaking themes, etc.
At ForexSEO, we pride ourselves on offering leading marketing solutions for the Forex niche. We have worked with many beginner Forex sites, helping grow their traffic organically and setting them up for future success. Contact our team if you want a quote or to have your questions answered.